Revisiting highlights from South East Retrofit Summit 2022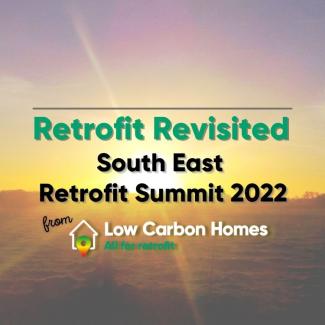 We had a fantastic speaker programme at the South East Retrofit Summit about the exciting retrofit opportunities in the region.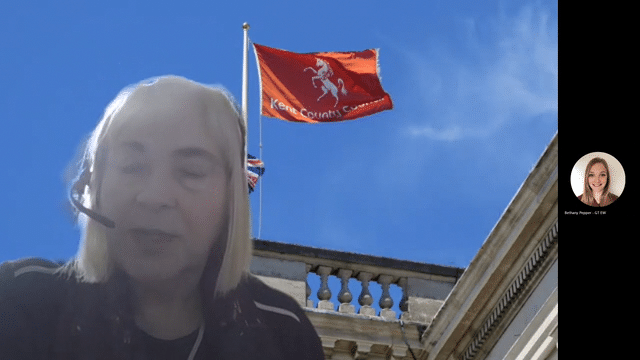 "There's a lot of interest in retrofit, and it's not hard to see why," said Councillor Susan Carey, Kent County Council Cabinet Member for Environment, in her opening remarks. "Government estimates retrofit could support over 244,000 jobs by 2035."  
Last but not least were the social and public health benefits, Susan highlighted. "There are few other interventions that can improve so many different areas of a person's life. Poor housing has a direct effect on the physical and mental health of those living in it. The effect of poor housing on people's health is estimated to cost the NHS £1.4bn a year, £857m of which is caused by excess cold." 
There's a huge amount of work to be done in this space, which presents massive commercial opportunities for contractors who can move into this space early, explained Bethany Pepper, Environment Strategy Programme Manager at Kent County Council, in her presentation. 
"We've mapped out what would be needed to reduce emissions from domestic buildings to close to net zero by 2050 from a 2017 baseline," she said. "We've set two target levels: 75,700 homes need to see 'medium' retrofit, or a 66% reduction in annual average energy demand, and 605,900 homes need to see a 'deep' retrofit, or an 83% reduction." 
The county has also mapped out the pace of change for installing new heating systems. "In 2017, 88% of properties in Kent and Medway were on non-electrified systems, typically gas. Between now and 2050, the proportion of homes on electrified systems needs to rise to close to 100% and that's assuming of course the principal heating source for homes is electrified and not including hydrogen in the mix."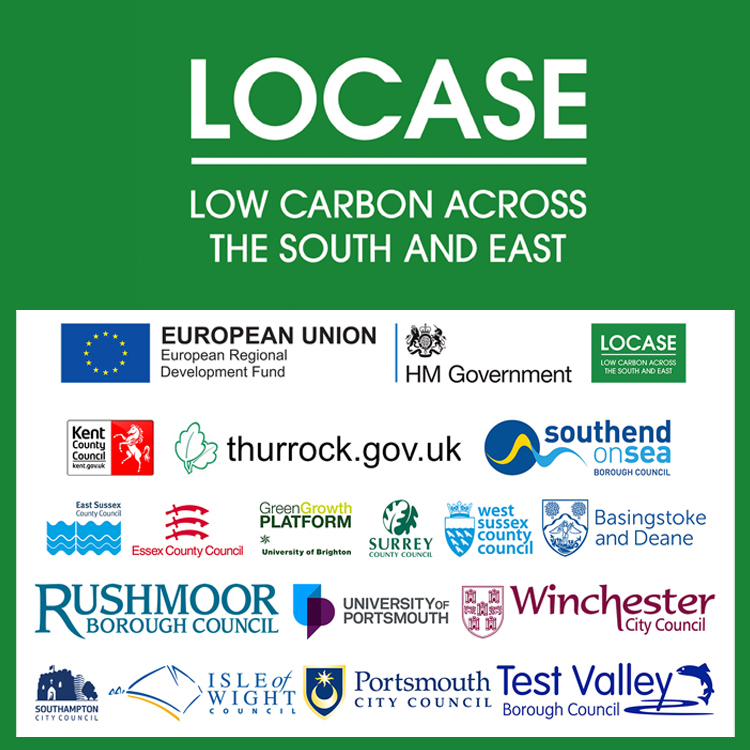 Our summit heard about what kinds of support are available to local businesses to seize this commercial opportunity. Rob Robinson from Kent County Council, for example, talked to us about the Low Carbon Across the South East ('LoCASE'), a free council-sponsored support programme for green businesses in the South and East - and host partner of the event.
"LoCASE is supporting a shift towards a low-carbon economy through stimulating demand and supporting supply," Rob explained. 
"We want to offer funding and the ability to increase capacity, but also encourage innovation and help cutting-edge tech become more commonplace. We still have £4m of grants available across four local enterprise partnership areas, and like all EU projects we can't run beyond Spring 2023. 
"For any business we can help with resource efficiency measures like insulation and heating. For businesses offering low-carbon goods and services, we can help with development costs, plant and machinery, and consultancy costs." 
Retrofit for multi-generational living
"12A Dalby Square is a large Victorian house in Margate of 425 square metres," Professor of Sustainable Architecture Marialena Nikolopoulou told attendees.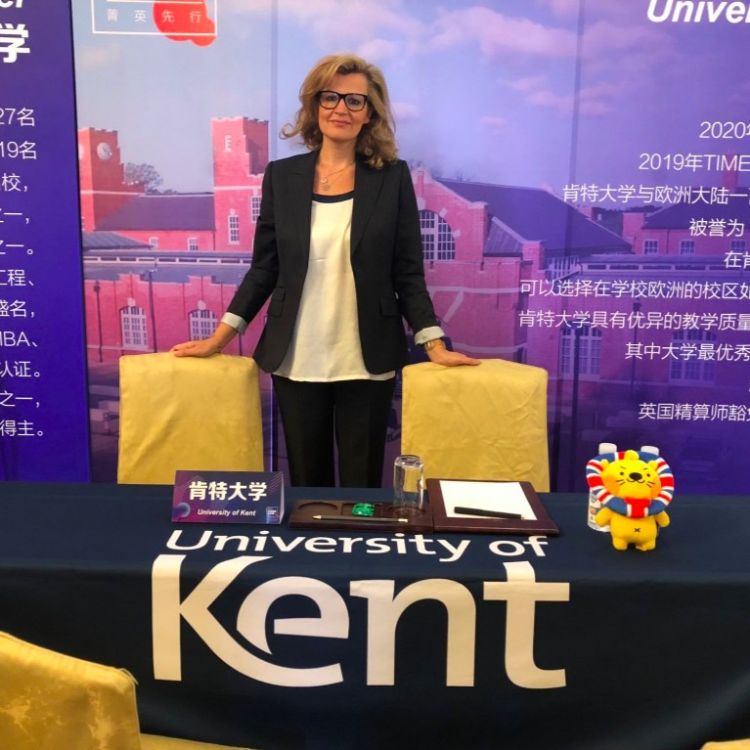 "It was poorly converted into a large provision of houses of multiple occupancy, which was very energy-intensive and led to overcrowding." 
But this unassuming townhouse soon became the site of a groundbreaking project by the University of Kent's School of Architecture and School of Psychology, in partnership with Kent County Council and Thanet District Council, Marialena explained.  
"The project aimed to tackle climate change, an ageing population and housing shortages by renovating and converting the mid-terrace property for multi-generational living." 
They restored the property through measures like rockwool insulation, external and internal wall insulation and glazing, before finding multigenerational families to move into the property and monitoring the building's performance. 
"It was considered a very comfortable environment both in summer and winter," Marialena reported, "with temperatures of around 20 to 22 degrees Celsius even in winter," while an unrefurbished house across the street which they had also been monitoring reported temperatures of around 14 to 16 degrees. "No overheating took place either, even with temperatures outside as high as 34 degrees Celsius. 
"There's also this passive ventilation, heat recovery system which delivers fresh air. We were also monitoring air temperature, relative humidity and surface temperature to check for any surface condensation. We were glad to see there were no issues." 
Marialena shared some key lessons learned during the Q&A. "We didn't advise the occupants how to operate the building. The windows were open in the depths of winter. You end up losing quite a bit of heat and energy.  
"The occupants really liked having fresh air, so you ended up having these systems antagonising each other: you have the hot air coming into the building and then leaving through the windows straight away. It could be good in future to advise the tenants that they may need shorter periods of time to get fresh air." 
With a reduced energy consumption of 40% compared to the national average, however, this could be a prototype of how historic buildings could accommodate projected changes in society and climate. 
'Community champions' 
Behavioural change was a key theme running through our Kent retrofit summit. Ondřej Kácha, behavioural scientist at The Behaviouralist, talked to us about his research into encouraging energy behaviour change. 
"Our research included a residential survey of about 1,800 residents in Kent and Medway, and eight expert interviews. We also reviewed a large number of past studies. 
This helped his team really understand the barriers low to medium income households face. "The first barrier is not knowing what measure is the most effective. Time constraints and information overload are also issues. 
"Some residents also find that energy efficiency requires large investments. However that is not the case for many of the local measures like optimising boiler temperature and reducing thermostat levels. 
"Finally, we identified a lack of trust and cultural barriers with institutions communicating energy-saving tips.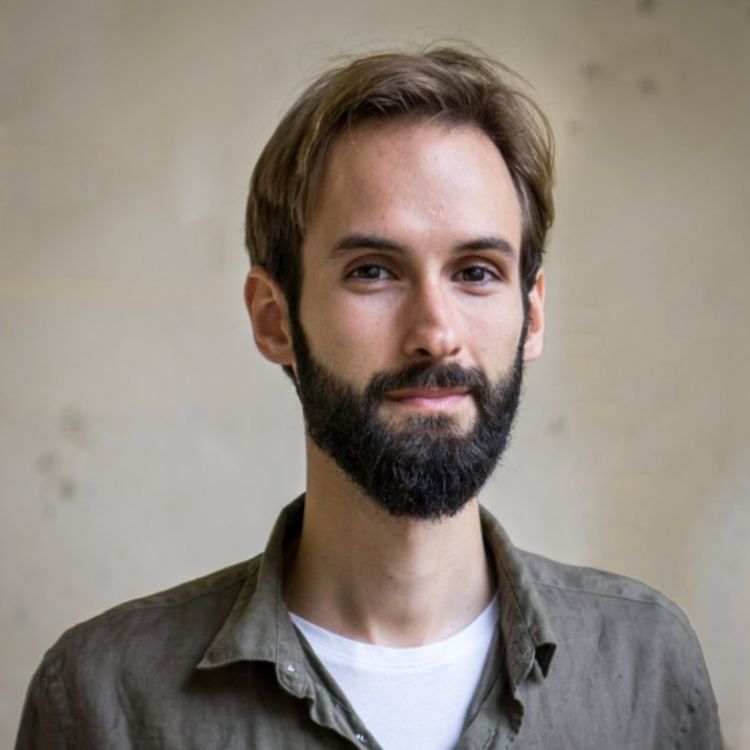 The Behaviouralist has developed a simple online platform which people can join and which comes with training, Ondřej highlighted. "We're providing people with five super easy energy efficiency tips, like setting your boiler flow to the correct temperature and setting the thermostat correctly. 
"People who take our training are also able to use tools from organisations like the Energy Savings Trust and NESTA." 
Another key engagement tactic would be recruiting community champions. But how, Ondřej was asked during the Q&A, can we ensure they reflect society's diversity?  
"It's a difficult one to crack," he admitted. "But the commitment is broad: we're getting the word out via social media, council and parish newsletters, we're also putting up posters in public spaces like libraries." 
'A new era of home heating' 
Our summit also featured many technical presentations. Oliver Baker, Managing Director of Ambion Heating, showcased some of the fascinating low carbon heating technologies pioneered by his firm such as computer-controlled infrared heating.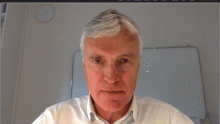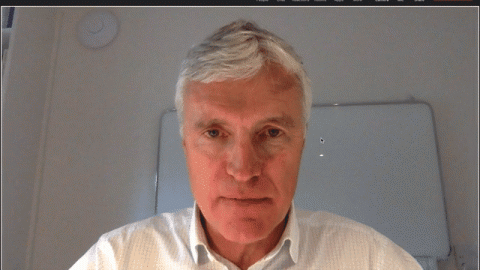 "Computer-controlled infrared (CCIR) combines infrared radiation panels and our proprietary computer control system to provide thermal comfort. We have a control system in place – the only on the market to do so, as everyone else uses thermostats. Why do we use them? Because it works differently from a traditional convection heating system. 
"Our computer capitalises uses 'pulsing' to reduce energy use while delivering target temperature, unlike a thermostat, which simply switches on and off. CCIR varies the duration and frequency of this pulsing to maintain a room temperature to within 0.1 degrees of target temperature.  
Ambion heating systems were shown to save households money on energy bills, Oliver told us. "Our analysis shows that, on average, CCIR produces 2.69 times more effective heating for every kWh of electricity used than a traditional convective heater." 
Ambion's KERS water heating system also provides higher levels of energy efficiency, Oliver said. "The KERS indoor heat pump is a combination of hot water, heat recovery and mechanical extract ventilation (MEV) system with a storage cylinder using renewable energy. 
"It achieves 310% efficiency, 68% energy savings and temperatures of 65 degrees without the need for an immersion element. And running on just 450 watts, the system uses a low amount of energy to drive the heat pump. 
"Together, CCIR and KERS deliver lower lifetime costs," Oliver concluded. "This is a new era of home heating." 
'Adding lungs back to your building' 
Another fascinating low-technology product showcased at our performance tackled some of the unintended consequences associated with retrofit like locked in moisture. 
"Improving building air tightness and thermal fabric can create 14 litres of moisture every day from the family living there through things like cooking and cleaning, which can lead to mould and condensation," Tom Robinson, Founder and Managing Director of Adaptavate, told attendees.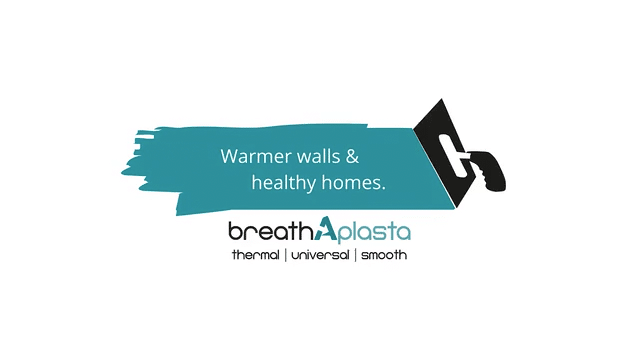 "Our products are called the BreathAplasta family, because they breathe the people in the building, reducing problems with mould and condensation, and improving the energy efficiency of the building. 
"The porous structure within the material enables that 14 litres of moisture to be absorbed. Then when the inhabitants go out to work or go to sleep, that moisture is breathed back out to the material. It's a passive, fabric first approach to creating warmer walls and healthier homes."[Text Wrapping Break] 
"By comparison, thermal laminates can quite often trap moisture, creating moisture in the walls or in the building, and leading to mould and condensation. 
"Breathaplasta can enable you to achieve the same new values, but a system that is compatible with the people in the building without occupants' knowledge, leading to healthier and energy efficient houses." 
Is the product easy to use for current builders, one person asked Tom during the Q&A. "I used to be a plasterer and a builder. When I set out on this journey it was really important we minimise the amount of reskilling needed for these products and the barrier to entry.  
So we designed them to be used and installed in the same way as standard products would be.  
"Our strapline is, performance plus is made easy. The level of training is generally minimal. The guys just get on with it straight away on first use and they use standard plasters or lime plasters.  
'Large dumb kettles'  
Our summit also heard a lot of exciting work around hot water tank innovation. "At the moment over around the balance of 10 billion is wasted on heating water in Europe and the US," said James Hoople, Business Development Manager, Mixergy. 
"If we could remedy this issue of wasted energy, it would be like removing half the cars from the UK roads.  
"Why? Because conventional hot water cylinders are essentially large dumb kettles that heat all or nothing. That's irrespective of how much water is actually required at the time."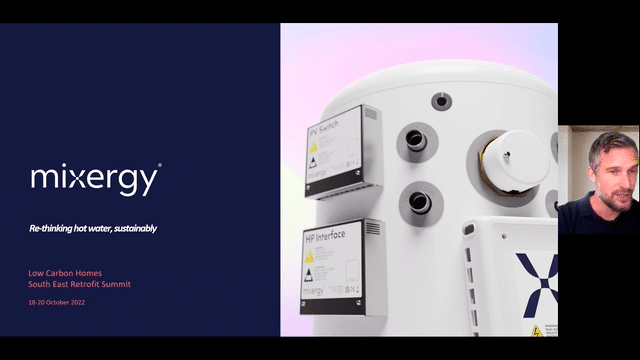 "People typically use less than half the capacity of that attained. Every day households are wasting energy and money heating water they don't actually need. 
Mixergy smart tanks are intelligent and only heat what you need, James explained. "The Mixergy tank is the fastest tank on the market, up to ten times quicker at achieving a useful temperature inside that can when compared with conventional hot water tanks.  
"We typically say around 20 to 40% on energy bills whilst creating 30% more usable hot water compared to a similar size to traditional cylinder.   
'Products of longevity' 
As well as hot water tanks, this was an exciting showcase of other low-carbon heating systems like air source heat pumps. But first, panellists sought to bust some myths. 
"Panasonic launched its first air-to-water heat pump in Japan in 1973," Sean Graham, National Distribution & Area Sales Manager at Panasonic, told attendees. "The technology has been around for a long time. All of you have a heat pump in reverse in your fridge! 
"A question we often get asked is, are heat pumps noisy?" He continued. "No, they're not. With a sound power of around 56dB, they're no louder than me speaking to you right now."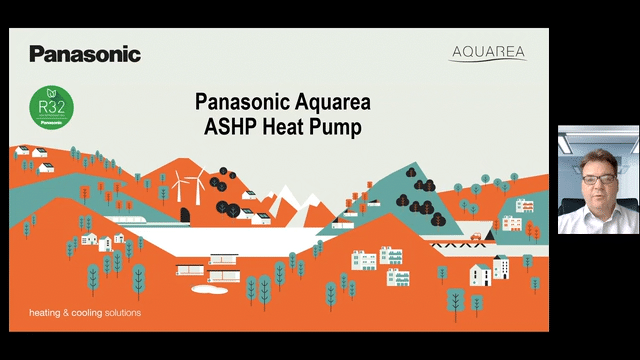 Sean then outlined Panasonic's range of products. "The product lineup we have is the monobloc, the bi-bloc — otherwise known as a 'split' — and an all-in-one.  
Sean was then asked why the monobloc was so popular in the UK. "I think it's just the way the market developed over here," he responded. "To fit a bi-bloc you need F gas so it will be an air conditioning engineer usually that gets involved, whereas a plumber can fit a monobloc.  
"Conversely, Europe has a lot of bi-blocs. I assume they have a lot of the heating guys out there. It's nothing to do with the application, or design of the system, or archetype of UK properties. It's a reflection of the installer base." 
Dominic Hills from Stelrad Radiators, who talked to us about flexibility/effectiveness of their radiators with retrofit heat pumps, explained why this was the case. 
"Low temperature heating systems operate at around 40-50 degrees celsius, whereas a gas boiler operates at 80 degrees celsius," he clarified. "Air source heat pumps operate by extracting freely available energy from a renewable source, which means very little carbon emitted."  

There were some questions about the costs of low carbon heating systems for householders during our Q&A session, but Dominic explained that shelf life would mitigate sizable upfront costs. "Radiators really are products of longevity. They last for a long period of time. And relatively speaking, if there's an issue in future it's an inexpensive fix." 
'The skillset is in the market'  
We also delved into some of the key barriers facing installers big and small. We asked Andy Edwards, National Sales manager, E.ON Energy, what challenges they were seeing as a Tier 1 contractor. 
"We're finding the skillset is in the market but when you look at the property level it's coordinating the supply chain, because not every installer can install a whole package of different measures. So effectively each property becomes a project in its own right. 

"It would be great if we had a standardised offer for a specific property archetype where we could give to the supply chain and say these are the standard measures and put a large scale training package in place with funding to install those measures. That would give the supply chain that certainty." 
We unearthed some key resources which might be able to give exactly that certainty to the supply chain Andy was talking about.  
Russell Smith of Parity Projects during his presentation showed us Pathways, a tool which models housing stock by local authority area to test ways to meet fuel poverty, carbon and SAP targets, identifying costs and employment. 
"We start by creating a full RD SAP dataset for each property," he explained. "Among other sources we use Open EPC data, Ordnance Survey data, Linur data and publicly available data like flood risk from the EA and multiple deprivation indices. 
"The real power of the tool is the ability to run what if investment scenarios," he continued. "After setting up a number of variables, like which interventions or measures you want to consider and your budget, the software runs across all of the stock all of the properties that you have included and works out a list of measures." 
Could the map feature be made available for installers to give them confidence in the potential market for their area, someone asked during the Q&A. "There's possibilities in lots of places for this sort of thing," David responded. "We're looking to open up the Plan Builder for Cosy Homes nationwide. We're also looking at SAP C. Watch this space! 
Huge range of topics at daily Q&A
Megan Cresswell, Senior Consultant at Turner & Townsend on the Social Housing Decarbonisation Fund – was asked if there were any examples of best practice for supply chain engagement?  
"We've developed some case studies which we've posted on LinkedIn over the last few months. Look out for them through the Social Housing Retrofit Accelerator (SHRA) LinkedIn channel," Megan responded. 
"We also recently sent out a presentation to organisations we're working with on Wave 2.1 from the BEIS Collaborate Conference slides, which went through some of the best practice case studies in Wave 1 and there was an element of supply chain engagement in those. Feel free to contact the SHRA team for that." 
James Kerry, Head of Policy for the Home Upgrade Grant at the Department for BEIS asked if they have any support for the able-to-pay sector and whether they had tips for engaging customers? 
"In the hub specifically, only private landlords who have low-income tenants are eligible for support under HUG, so those tenants need to be on less than £31,000 a year.  
"For the owner-occupier sector, we will be consulting on the proposals for ECO Plus shortly. That will have broader eligibility than ECO4 and will sit along the Boiler Upgrade Grant scheme." 
On Morning 2, Joshua Arthur, Project Manager, Gravesham Borough Council and Emma Sharman, Consultant at Kensa Contracting were asked what kind of customer feedback they had been receiving in terms of lived experience of using ground source heat pumps. 
"The feedback we've received since installing has been very positive," Joshua said. "Previously the majority of residents were on inefficient storage heaters that took a long time to warm up and when it was fully charged that was it.  
"Now they've got a system that allows them to programme it for when they want it to come on and to a certain temperature they are finding that to be a much better experience. 
George Frost, Country Manager, iChoosr was asked what options householders had in terms of pooling together and purchasing products. 
 "When householders register to be part of the scheme they can register to have PV, PV and storage or just storage," George replied. "With any of those combinations they can also ask for a quote on an EV charger, but we don't do the EV charger as a stand-alone.  
"Once you accept the offer, those details are passed onto the installer who does a desktop survey which gets rid of the flat glass roof in the middle of the forest, but then there'll be a physical survey and at that stage we find a lot of people add in a battery where they haven't selected it sooner. 
"The elephant in the room is whether we're going to do anything with heat pumps, which is a logical next step for us. There's definitely a need there for consumer engagement and education, and there are some challenges with skills in the supply chain, as well as actual or perceived lack of affordability." 
On the final morning, Eve Lockton-Goddard, Sustainable Energy Projects Lead at Thanet District Council, was asked whether supply chain engagement was underway yet.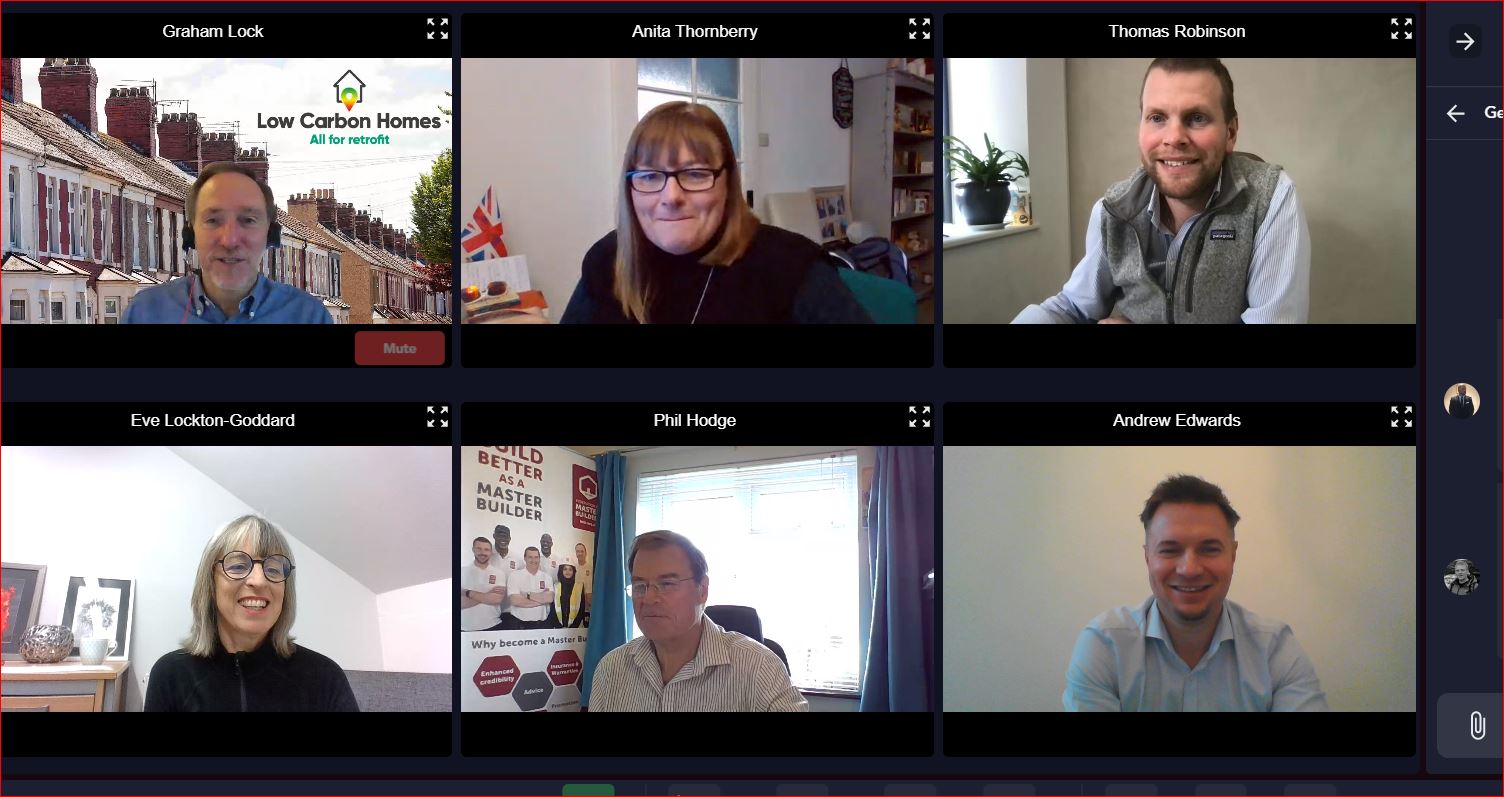 "It's definitely a challenge. It's underway because it came out of speaking to contractors. The joy of being locally based is that we do get the opportunity to talk to contractors about whether they're aware of opportunities. 
Eve proceeded to highlight some challenges installers are facing. "There was a lot of misinformation out there from heat engineers along the lines of, you're not allowed to install boilers from next year, all the way through to, there's going to be no gas.  
"And then talking to local PV contractors, not knowing routes to market, not understanding how to get MCS accreditation or how to get onto frameworks." 
Anita Thornberry, Director at Haven Gateway Partnership, was asked about accessibility/longevity of the iConstruct platform. 
"Regarding longevity, although the platform is being built on the back of government funding, ERDF money, it is not intended for the public sector to be major funders of it because we know the public sector doesn't have the resources.  
"It's a pay-to-play platform. The rates will be determined by the size of the organisation and I can assure you the Tier 1s are paying more than SMEs. 
Asked about engagement, Anita responded: "There are a number of issues we need to overcome. One of them is how we engage with schools which don't have the capacity to engage with every major project individually because they have the reqs to deliver the curriculum.  
"With something like our platform which brings all of it together under one heading, we are engaging schools, further and higher education on that collective basis showing that range and duration of the projects. 
"You talk to some of the major projects and they say, we're not going to break ground for two years. And when you look at workforce development you think, oh god we've only got two years! It's a question of engaging early doors with the projects and with Tier 1 contractors.  
"The platform won't just be about Tier 1s engaging with SMEs. It will also be engaging with Tier 1 contractors on their range of projects outside their major projects.  
"We hear overwhelmingly from SMEs that they struggle to find the way into Tier 1s, Tier 2s and major projects. So even just having that entry point is better than what they have at the moment." 
Phil Hodge, Director, Federation of Master Builders (FMB) South, was asked about what they were hearing from SMEs regarding growing the supply chain skill base. 
"One key thing is educating our existing workforce to understand the commercial benefits in engaging in the retrofit economy. Because there is quite a lot of inertia. It's a question of existing builders that there is benefit to be had going into this sector. 
"We work with a number of colleges. We also have an ambassadors program where we have existing members volunteering with us to demonstrate how successful their installations have been. We also work closely with the Green Register and Parity Projects to help raise awareness. 
Summarising the three mornings of the summit in his closing remarks, Rob Robinson said:
"I think from what we've heard these last three days, it's the scale of the challenge, I'm loving the positivity coming through from many of the speakers. We can't underestimate this is a big challenge, but the value of collaboration and innovation is huge, and that doesn't just mean technology, it's about delivery and applying technology."
"I think there's also an opportunity to link MCS, Trustmark, FMB and the Haven Gateway Partnership's iConstruct platform with bigger business, construction, procurement and planning, and to genuinely add capacity to our local supply chains.  
"It's also about linking the green jobs and skills agenda. Many LEPs and LAs have got that as their UK Share Prosperity plans. Some of those are two to four years in the future. Where we can we need to bring those forward as much as possible. 
"To close, we don't want this momentum to stop. As Phil points out, there's potentially a lot of inertia here. If we can lead the energy and ideas from all the discussions you've had into actual impact and outcomes, maybe this time next year we're talking about successes. Then we'll be looking at a much more positive horizon, where everything is linked in terms of supply and demand." 
---
Log into/create your Low Carbon Homes profile to access the (free) presentation resources from the event.
This report was produced for Low Carbon Homes by environmental journalist and communicator, Alex King