Oxfordshire retrofit revisited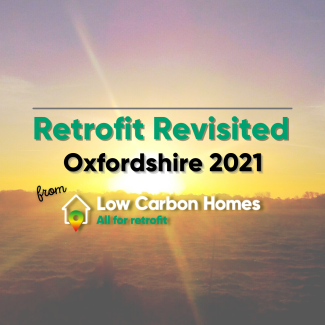 "Last August, I found myself on the sharp edge of the economic shutdown" Andrew Glassford, a sound engineer from Manchester, told our Low Carbon Homes Oxfordshire conference in March.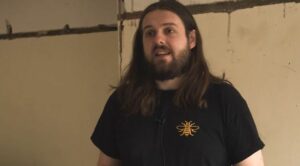 Andrew's sector had been hit hard by successive coronavirus lockdowns. "I've worked in theatres and venues all across Greater Manchester, and not being able to gather in big groups really made it financially not viable to do gigs in person.
But Andrew's hopes were raised when he heard about retrofit. "Charlie Baker from Red Cooperative outlined to me what retrofit was, and the promise it could have for our de-carbonisation ambitions. As you'll know, 30% of the country's carbon comes from domestic homes and building use – so this is something we have to tackle right away."
This chimed with other conference speakers, who also said retrofit was essential for meeting net zero targets in Oxfordshire.
"Residential buildings account for roughly a quarter of the county's carbon emissions," Sam Thomas, Cherwell District Council and Oxfordshire County Council Climate Action Officer, told attendees. "There are 4,000 home energy retrofits that are needed per year across the county to get to that 2050 target."
While promising a greener future, Andrew quickly discovered, there were serious issues around skills in the budding sector. "The CITB predicts a 11% decline in the workforce by 2021," he highlighted, "so there really is a problem of enticing and encouraging people to work in retrofit."
But Andrew and Charlie had a creative way to deal with this skills shortage. "I knew a lot of people in live events who were multiskilled in construction or joinery or electrician work, and they needed something to do."
"Charlie and I spoke to his clients, and they agreed to us bringing this workforce into their home and we got to work.
This was the start of Andrew and Charlie's project, Retrofit Get-In, to get theatre and live events workers laid off due to Covid-19 working in retrofit.
"We began by analysing the workforce," Andrew told attendees. "I had about 40 people who came forward. We then looked through their skill sets and experiences – seeing if they'd been chippies on site, or if they'd been electricians or production managers – and how we could utilise them. From late-September until now we have had around 12 people working."
Andrew showed us a finished bay window in the property on which the arts workers had been working. "I'm pretty pleased for someone who wasn't involved in retrofitting at the start of 2020 seeing my colleagues being able to do this – it's been pretty remarkable.
"I definitely think we've proven the concept that we can take people from other sectors and bring them into retrofitting as a way to kickstart a good green jobs programme."
Inspiring confidence

These themes of skills, training and development were an integral part of our Oxfordshire conference.
During our Q&A session, Sean Fryer from Oxford Direct Services highlighted opportunities for businesses to gain accreditations. "We will be delivering PAS 2030 training for Oxford City Council using government funds. We're very much just setting out the roadmap to gain accreditation and Trustmark status."
"We also do things like the Kickstart Scheme. And as the market develops we'll be able to bring more young people on who can get those qualifications. Some of those are relatively easy to get like an NVQ 2 in draft-proofing, all the way up to Gas Safe for boilers.
However, panellists also agreed that local businesses needed confidence that the retrofit market would grow before reskilling.
"We have to consider there's a business development challenge for smaller organisations,"' Paul Roberts, CEO of Aspire Oxford, pointed out. "That is to say, that there's an anticipation these organisations will grow and take on new employees and apprentices.
"Then of course there's the question of infrastructure development – are they fit for that growth? They need support around cashflow, HR – the nuts and bolts of business development needs – where's the support for that?
"The support is there – it's fully funded by the local enterprise partnership (LEP) – but it's only here for a moment in time. We need a more proactive outreach approach from the LEP to engage this sector."
Panellists agreed there was a potential role for a local retrofit association to take on the issue of engaging Oxfordshire contractors.
"I strongly believe that there are simple financial mechanisms that councils can provide to support the retrofit of homes such as providing a council tax reduction for particularly high energy efficiency ratings, you could provide that to EPC band A properties for instance," Tom Beckett, Founder & Director of Better Century, said during one of the Q&A sessions.
"But it's very difficult to evidence that proposal unless you can provide some sort of social benefit and you consider the implications in the whole.
"I think that's where there's a role for a local retrofit association. Conversations like this are really helpful, but how you can resource the collation and training and bringing up this industry is a really big challenge, and which I think needs to be properly resourced." Many panellists like Tom even kindly offered to help set up such a local retrofit association.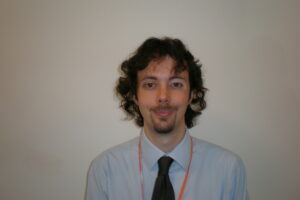 Sam Thomas also highlighted real opportunities for local partnerships. "We have also won a Green Homes Grant Local Authority Delivery 1b, which is £1.5m for specifically targeting residents who own their own homes and who are in fuel poverty," as just one example of these opportunities.
Lucy Pedler, Director of the Green Register, provided insights to the conference on what barriers were preventing current contractors reskilling in retrofit.
"We have the builders who already know about this but are too busy, so we want to now go to builders who might see this as an opportunity of growth for their business.
"We need to signpost this to them – the whole house type training first, before we get into the specifics. From the Green Register's perspective, it's about getting that foundation – that everything is interrelated – and taking a phased approach.
"Futureproof is helping supply skilled contractors, enabling the CSE to give confidence to customers," Lucy said. It was a fascinating insight on project methodology and on upskilling the construction industry which nicely counterbalanced Andrew's insight on how to tap into skills in other sectors.
Cyclical industry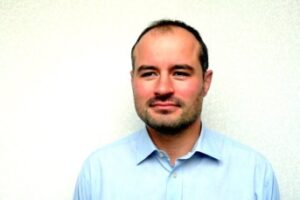 This phased approach was expanded on by Russell Smith. As well as helping contractors feel confident in retrofit, Russell Smith, Managing Director of RetrofitWorks, stressed that other stakeholders needed support.
Russell explained how the pilot scheme Cosy Homes Oxfordshire made retrofit simple for householders and advocates.
"When we're trying to create a market, it's about getting contractors into the market of course, but it's also about getting householders to understand the opportunities, and we need to think about the process.
"We're relying on the fact that these householders are looking for specific energy efficiency measures.
"But if we want to get deep retrofit done, we need to think about how all of the work is going to be done. Are we really assuming that all of the houses are going to be done in one go?
"We should be assuming there will be a cyclical process where we plan, do, measure, and go around the loop again," unlike in a conventional construction project, where a householder calls up a contractor, they give them a quote, they do the work, get paid and then never heard from again ideally."
"We'll go through multiple loops by 2040 or 2050, and we need to understand how to manage a customer through multiple iterations of that."
"RetrofitWorks sits in the middle," Russell explained. "It's a multi-stakeholder co-operative, owned by contractors, practitioners, retrofit coordinators, designers, architects and advocates. They all own a share and they design local schemes like Cosy Homes Oxfordshire.
"We understand there are a number of different types of building and a number of different advocates. We need to understand them on their own terms.
"If what we're trying to do is get every UK house renovated by 2040-2050, we need to build up this trust – we need a supply chain with the capability, and we need to make an offer to householders that gets them excited."
In the Q&A session, Russell was asked whether Oxfordshire had the capacity to meet its carbon neutrality targets.
"No – at least not right now! How do we get there? We've got to move away from single measure retrofit. We need to be thinking about things holistically.
"We need to take when opportunities open up in a part of a building, to do everything in the right way. Then the retrofit coordinator can think about how that building and that piece of work as the next phase follows.
"There's no incentive for our industry to work in that way. There's no joined-up nature in the normal sense to enable one contractor to refer to another, or to wait for one contractor to do their bit of work so that they can do their bit later.
"That's what the Retrofit Works-Cosy Homes model is all about. It's about trying to bring that organisation together to enable that kind of conversation to happen."
'The cheapest energy is the energy we don't use'
Our conference also looked at refurbishment best practices because these are also key ingredients to retrofitting at scale.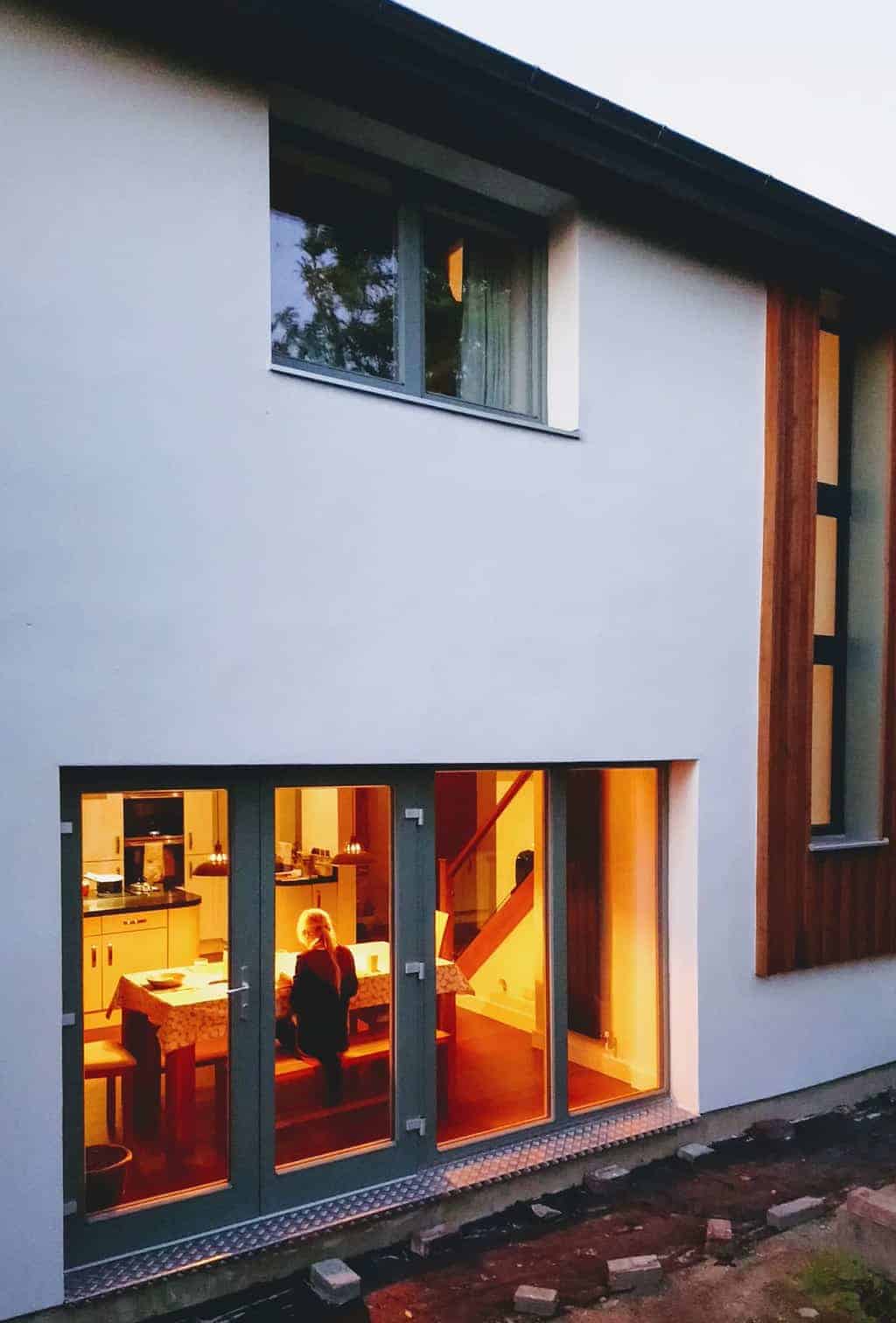 Although a methodology conventionally linked to new builds, "many of the Passivhaus principles can be applied in a retrofit situation," Bill Butcher, Director of GBS, explained. "The cheapest energy we can use is the energy we don't use."
Bill then provided us with some fresh insight on how each method could be put into practice, using a real life example of a deep retrofit done on a house in Cumberworth in the Peak District.
For instance, on air tightness Bill explained that "we like to be able to draw a line completely around the building using different strategies for the roof and the walls." They used diathonite, an "intelligent intello membrane" to achieve this, he said.
To take another example, to achieve continuity of insulation the GBS put insulation through intermediate floors so it was continuous from ground floor to the roof, and the window reveals.
Using the Passivhaus standard and methodology," Director of GBS Chris Herring concluded, "we can bring our housing stock up to 21st century standards."
Retrofit Glossary of Terms
Term
Definition
Source
Deep /whole house  retrofit
A complete retrofit approach where a house is treated as a joined-up    system focusing on building fabric first, to strategies for heating, ventilation and cooling. This ensures that measures work together effectively and efficiently in the long-term.
TrustMark. 2020. Whole House Retrofit - A Consumer Guide. London: BEIS.
Fabric first
A retrofit strategy advocating for the building fabric improvements such as insulation as the priority measure.
Institute for Sustainability. 2012. Retrofit insights: perspectives for an emerging industry. London: UCL Energy Institute and Technology Strategy Board.
Fuel poverty
Fuel poverty is defined as households who spend 10% or more of their income on domestic energy use, meaning that they cannot maintain an adequately warm home.
Rosenow, J. 2012. Energy savings obligations in the UK – a history of change. Energy Policy. 49, pp. 373-382.
PAS 2030:2019
PAS 2030:2019 is the industry specification (previously PAS 2030:2017) to which all energy efficiency installers must be certified and compliant with when carrying out energy efficiency measures under government           initiatives.
TrustMark. 2020. Support for gaining Publicly Available Specifications (PAS) and Microgeneration Certification Scheme (MCS) Certification. [Online]. Available from: https://www.trustmark.org.uk/tradespeople/how-to-become-pas-mcs-certified#questions
PAS 2035:2019
PAS 2035:2019 is the overarching specification for a framework of new and existing standards, promoting a whole house retrofit approach. Once an installer updates their certification to PAS 2030:2019, the PAS 2035:2019 requirements commence.
Elmhurst Energy. 2020. PAS 2035 for Installers. [Online]. Available from: https://www.elmhurstenergy.co.uk/pas-2035-installers
Retrofit
The retrospective fitting of building fabric improvements like insulation, low carbon HVAC, such as heat pumps and integrated renewables like PV panels, to improve the energy efficiency, health and comfort of a house and reduce its CO2 emissions.
Putnam, T. 2020. Grassroots retrofit: The role of community-led approaches in the UK's residential retrofit challenge. Master's thesis, University of Leeds.
Thermal comfort
Thermal comfort is defined as the condition of mind that expresses
satisfaction with the thermal environment, and refers to a number of
conditions in which most people feel comfortable.
Camuffo, D. 2019. Temperature: A Key Variable in Conservation and Thermal Comfort. In: Camuffo, D. ed. Microclimate for Cultural Heritage. [Online]. 3rd edition. Amsterdam: Elsevier, pp. 15-42.
Retrofit Glossary creators: Zoe Branford linkedin.com/in/zoe-branford-04372b1ba & Toby Putnam linkedin.com/in/toby-putnam-883b8285 | as part of Low Carbon Homes Project NewGen internship programme
Author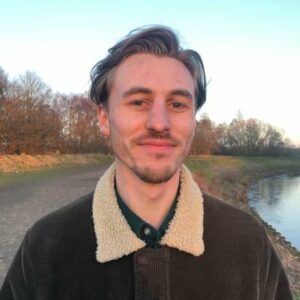 Article written by: Alex King | LinkedIn | Twitter @alexdpking