Delivering retrofit at-scale across Manchester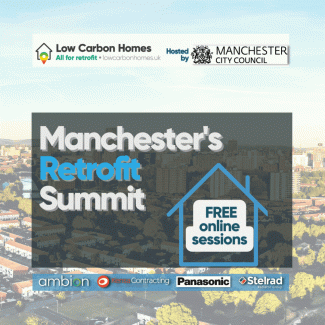 Manchester City Council are lead partner for the third Low Carbon Homes online event to progress retrofit as a crucial part of the city's journey to become zero carbon by 2038.
The Manchester Retrofit Summit will take place over three mornings (22–24 March 2022), featuring daily online sessions from Manchester's low carbon leaders and experts assembled from across the UK.
The event will give delegates the opportunity to learn from examples of completed retrofit projects and hear about scalable approaches in the social housing and private sectors, along with plans to meet the skills, supply chain and financial challenges currently faced, and the innovative solutions being developed in the market to meet those challenges.
The huge commercial and societal opportunities will also be explored, with the aim of ensuring a fair and just low carbon transition across the city and wider region.
Cllr Tracey Rawlins, Manchester City Council's executive member for environment, said: "We have set an ambitious target to become a zero carbon city by 2038 and this will only be achieved by taking a holistic approach, putting low carbon as a central tenet to everything the city does.
"Manchester has a very large social housing stock – some 70,000 homes – and this means that tackling the retrofit challenge will prove essential in reducing carbon usage across the city, while also ensuring our residents have warm, dry homes with cheaper fuel bills, as well as reduced carbon emissions.
"We are at a crucial point in our journey to becoming a zero carbon city, and I look forward to this event as a chance to bring like-minded organisations together. This is a mountain that we must climb in collaboration with our housing and construction sector partners, and this is our opportunity to consider the challenge we face and solutions available to overcome them."
Cllr Tracey Rawlins opens the online event on Tuesday 22nd March followed by over 20 speakers gathered from across the city and UK-wide to share best practice, explore opportunities and to offer a collaborative approach to rapid delivery of retrofit.
Cllr Gavin White, MCC's Executive Member for Housing and Employment opens day two, with GMCA Mayor, Andy Burnham opening the final day on 24th March
Speakers:
Councillor Tracey Rawlins, Executive Member for Environment, Manchester City Council
Michael Wilton, Chair, Manchester Climate Change Partnership
Oliver Baker, CEO, Ambion Heating
Simon Brown, Heat Pump Specialist, Panasonic
Judy Noah, Interim Director of Development, One Manchester
Jonathan Atkinson, Director, People Powered Retrofit
Todd Holden, Energy Policy and Programmes Lead, GMCA
Councillor Gavin White, Executive Member for Housing and Employment, Manchester City Council
Chris Hawker, Co-Director, Hawkland Ecological Construction
Jenny Osborne, CEO, TPAS
Lewis Aird, Specification BDM, Stelrad Radiator Group
Iain Carr, Area Sales Manager, Kensa Contracting
Joe Crolla, Skills Intelligence Lead, GMCA
Tricia Allen, Work and Skills Specialist, Manchester City Council
Chris Wright, Assistant Principal: Curriculum, The Manchester College
Jeff Bowcock, Green Employment & Skills Partnerships, One Manchester
Andy Burnham, Mayor, Greater Manchester Combined Authority
Marissa Looby, Home Energy Lead (Local Energy North West Hub), Liverpool City Region CA
Matt Harrison, Programme Director, Social Housing Decarbonisation Fund, BEIS
Adam Whitworth, Supply Chain Officer, People Powered Retrofit
Marcos Navarro, Director, Sustainability Lead, NatWest Group
Emma Lower, CEO, Lendology
Low Carbon Homes' Manchester Retrofit Summit, hosted by Manchester City Council is a free-to-attend online event bringing professionals from inter-related sectors together to collaborate and consider the scale of the challenge, the solutions available and the barriers to overcome.
Low Carbon Homes will be staging further regional retrofit conferences across the UK throughout 2022.
ENDS
Notes to editors, logo and images on following pages
Notes to editors
Manchester event
Free tickets for representatives from across Manchester and the North West of England

The online event takes place across three mornings – 22, 23, 24 March (0845-1130hrs)

Delegates can drop in for all or selected sessions and meet with other delegates, speakers and sponsors in the unique Retrofit Meeting House using the highly sociable, and dynamic

Remo

platform

Group work sessions will be staged each day to facilitate thought development among delegates

Registration for the event closes at 4pm, Monday 21st March

Registration for all events is open at

https://lowcarbonhomes.uk/events
Twitter: @lowcarbonhomes
Email: hello@lowcarbonhomes.uk
Low Carbon Homes brings global domestic energy efficiency innovation to the UK's regions via a nationwide event series focused on the challenges of retrofitting the UK's existing 25 million homes. Aimed at architects, heating engineers, local authorities, landlords, contractors and related sector professionals, the free-to-attend event (for local organisations) features a structured programme built around core sessions specific to each host city/region.
Press contact
For quotes, further images or interviews please contact:
Graham Lock
tel: 07917 847552
email: graham@lowcarbonhomes.uk