Keeping Homes Warm for Less - Boiler tweaks to tackle the cost-of-living crisis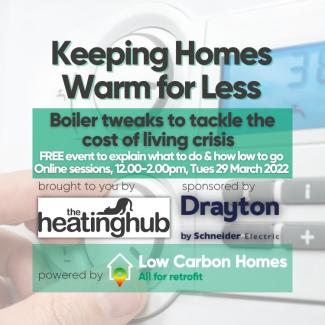 This year, as part of its campaign to help improve the efficiency of heating systems across the UK and reduce carbon emissions, Drayton is sponsoring the first 'Keeping Homes Warm For Less' online conference, hosted by The Heating Hub and supported by Low Carbon Homes.
The conference will focus on easy boiler tweaks that can reduce gas bills and help tackle of the cost-of-living crisis.
Taking place on Tuesday 29th March, between 12-2pm, the free-to-attend conference will look at boiler operating temperature is and why it is important for efficiency. The expert panellists from The Heating Hub will also explain how it can be adjusted and the minimum temperatures that can be used, as well as covering the different types of boilers can be adapted to a lower operating temperature. The conference will also include guest speakers from fuel poverty charity National Energy Action, BEIS, Energy UK and NESTA.
The movement to lower operating temperatures, launched by The Heating Hub in 2021, aims to educate homeowners about the difference that this can make to the performance of their heating systems, helping to reduce carbon emissions and also lower energy bills – something currently at the forefront of many homeowners' minds due to the rising costs.
Remi Volpe, Managing Director of Drayton, commented: "This year, here at Drayton we are on a mission to help educate both installers and homeowners about the small changes they can be making to help improve the efficiency of their current heating systems, as the country starts on its journey towards a Net Zero future.
"We are excited to be sponsoring the Low Carbon Homes conference with The Heating Hub, as lowering flow temperatures is one small change that can make the world of
difference. As well as helping to reduce energy usage and lower energy bills, it's also helping us prepare systems for the inevitable move towards renewable heat sources, such as heat pumps, that operate at these lower temperatures."
The low flow temperature conference is open to heating engineers, specifiers, local authorities and housing associations, energy suppliers and consumers. To register to attend, visit https://bit.ly/KeepWarmREGInfo
To learn more about Drayton, visit draytoncontrols.co.uk or to join The Drayton Community Facebook group at www.facebook.com/groups/TheDraytonCommunity.
-Ends-
Notes to editors
Drayton is one of the leading brands in the UK domestic heating market, with more than 70 years' experience. Manufactured in Plymouth, Drayton products are made in the UK, for the UK and have a reputation for quality, reliability and technical excellence. These attributes have been instrumental in ensuring that Drayton has continued to lead the field within the UK heating market