Retrofit Action Week 2023 (Greater Manchester) Revisited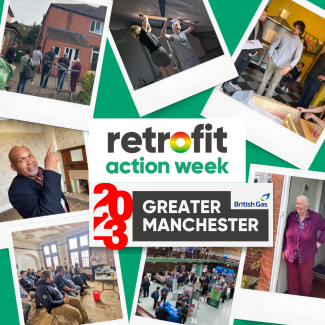 And what a week it was - we look back over the gatherings, activities and events all centred around scaling up and speeding up energy efficiency measures for Greater Manchester's residents and homes.
---
Green Open Doors
At the start of Retrofit Action Week, non-for-profit Manchester-based advice and support service People Powered Retrofit led a Green Open Doors tour around two retrofitted homes in South Manchester.
37 Everett Road, Withington, part of a short stretch of Edwardian terrace, is owned by a co-op with six residents. The co-op borrowed to put external wall insulation on the south-facing back wall of the house. The insulation is made of layers of coconut husk with a dark red render, and hasn't needed to be repainted since it was put up.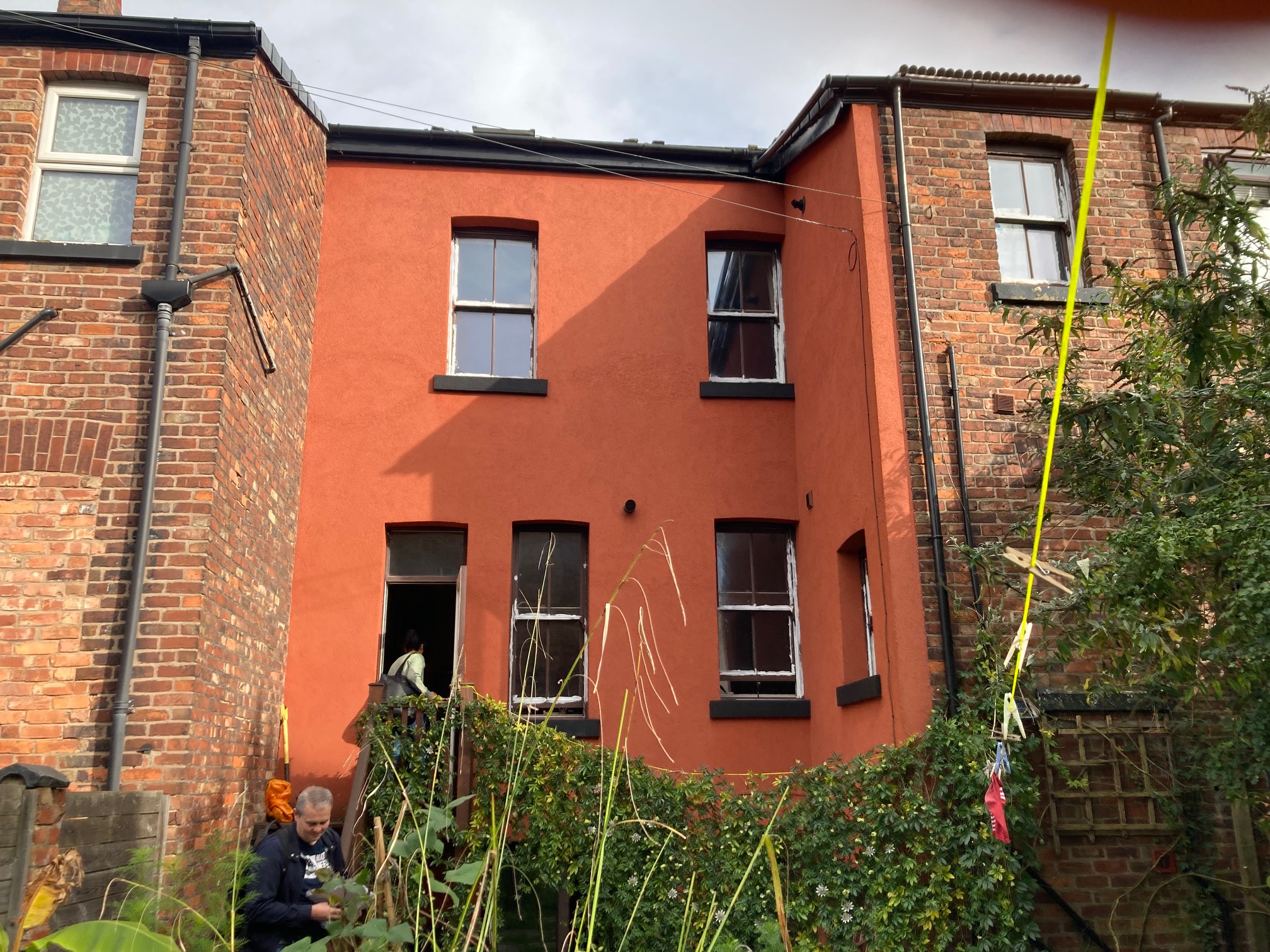 The house also has solar tiles on the roof, a garden rainwater harvesting system with a pump sending the water up to flush the loos, and some roof insulation. The basement, which contains a DIY workshop and a bike store, has recently been refurbished and partly waterproofed.
Co-op resident Nathaniel says "We barely use radiators in the winter, even for six people in the house". He says energy bills throughout the year are £70 per person per month (for August and September combined they were just under £271 for the whole house).
Nathaniel has been living in the house for almost four years. Previously he was in Paris, and before that lived for 15 years on a kibbutz in Israel specialising in alternative construction and retrofit, with geodesic domes and buildings lined with straw bales or with a straw/clay slurry mix. Nathaniel and his fellow kibbutzniks taught students who came to live there permaculture, organic farming and sustainable building techniques.
Nathaniel wants to offer his expertise and energy to people in Manchester interested in retrofit and sustainability. "I've got to work, but I'd like to invest as much of my time in doing this for other people [as possible]," he says.
Sheila and her husband, who live in a 1920s semi in Palatine Road between Withington and Didsbury, joined 13 other homeowners on Sheila's retirement in 2014 in a Carbon Coop retrofit scheme. Between February and November of that year, they had external wall Rock Wool insulation installed along the side and back of their house, with triple glazing for the windows; solar panels fitted on a south-east facing pitched roof; internal wall insulation in the front rooms and double glazing of the bay windows; loft insulation and drafts through the chimney plugged by a balloon in the loft; underfloor insulation; and vents in rooms across the house.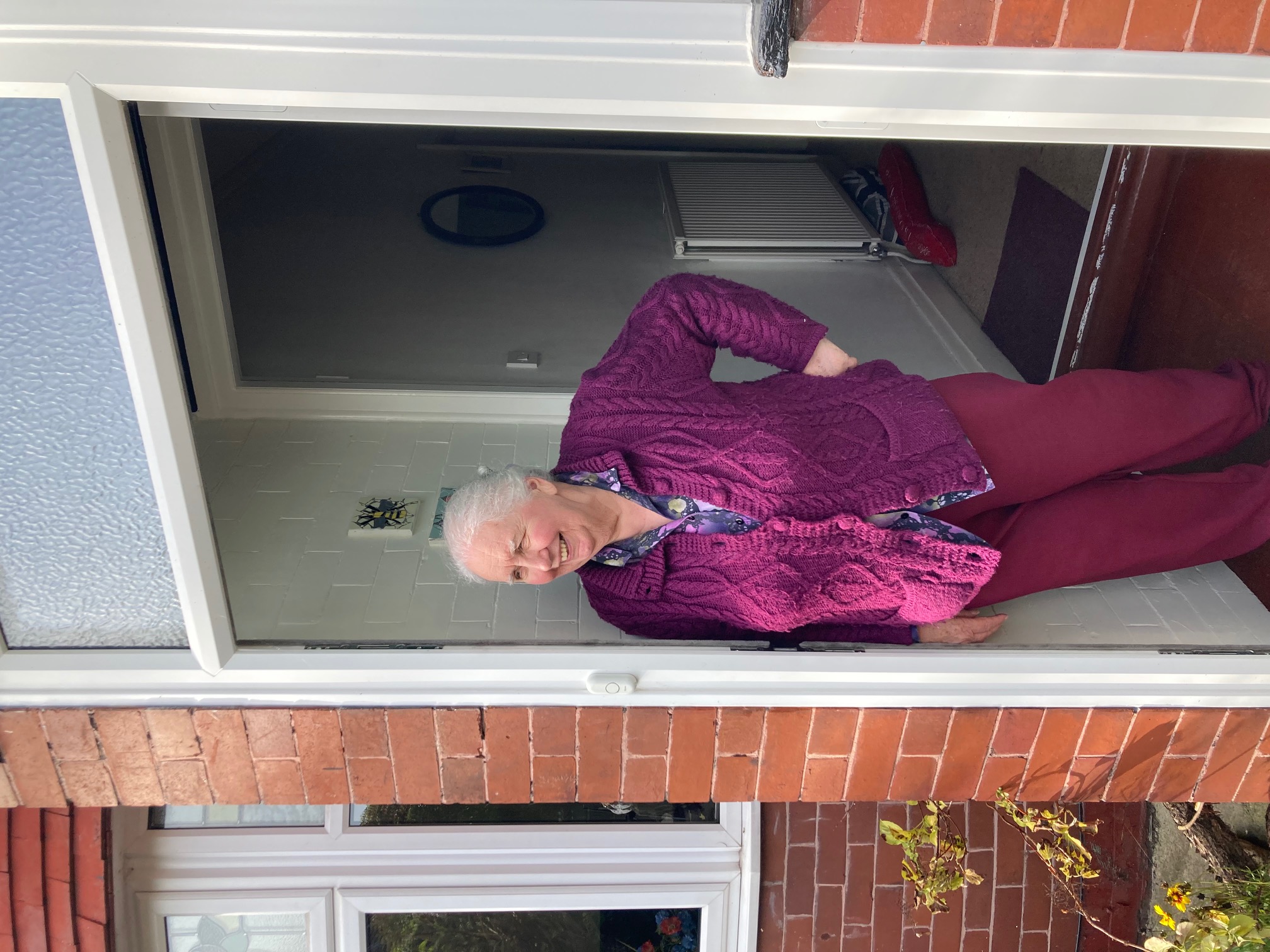 Their EPC rating rose from an 'E' to a 'B' and energy bills almost halved at the time the work was completed, from around £1200 to £700 a year. Whereas the house had previously been "very cold" Sheila says, they now keep the temperature to around 21C using a wireless heating control.
Double glazing at the front also successfully cut out noise from the main road. The solar panels radically improved in productivity after a tree at the front of the property was taken down.
Not all of the work carried out was as effective or used as high spec materials as Sheila would have hoped. Looking back, she wishes she had had more time to reflect and knew as much when she started the project as she does now.
As advice for others thinking about retrofitting their home Sheila says: "You have to make sure you're getting value for your money, and know what you want.
"You want to be prepared for doing what you want. And maybe do it one bit at a time".
Alan, one of the participants in the Green Open Doors tour, who is just starting on a retrofit of his Manchester home said: "Hearing Sheila say her external wall insulation made a big difference was very encouraging". Alan had builders arriving to start work the following week but had already done the underfloor heating himself, cutting 100mm thick wood fibre bats with an adapted woodsaw: "Six weeks crawling around on my back in cellar voids. I hope I've done a good enough job".
---
Greater Manchester Retrofit Summit
Retrofit Action Week continued with the online Retrofit Summit for the Greater Manchester housing sector - using an interactive and sociable format that has proved popular with busy housing professionals.
The summit brought together nearly 200 speakers and delegates to discuss the challenges and opportunities of retrofitting Greater Manchester's homes to make them more energy-efficient and reduce carbon emissions.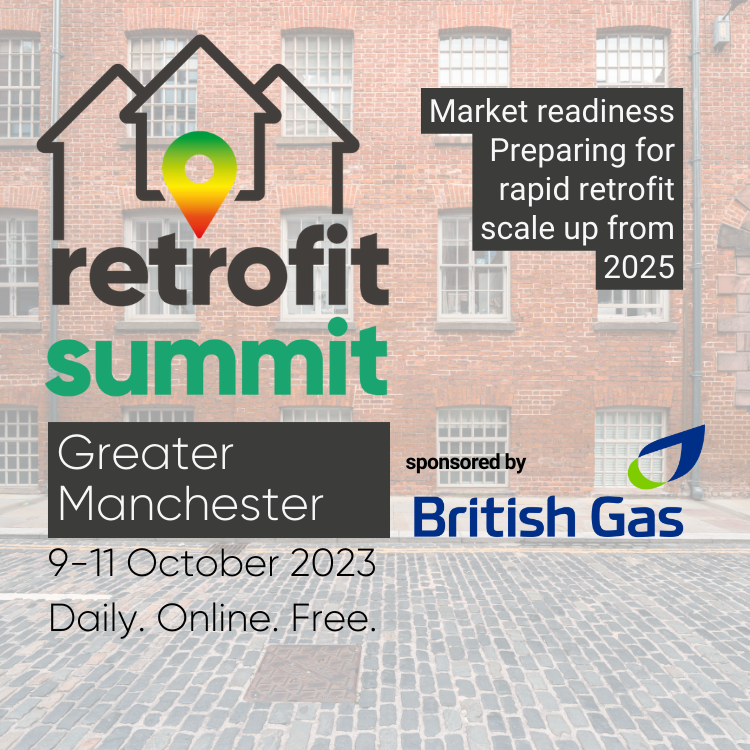 Kim Royds, Regional Business Director for the Northwest for British Gas Zero - Headline Sponsor of the entire week - presented the results of British Gas' Net Zero Homes Index. The survey found that 78% of homeowners would be willing to make changes to how they live to reduce their carbon footprint, and 49% intended to install insulation in the next two years. However, there was low confidence in the UK's ability to implement the green transition. Kim also discussed British Gas' Home Improvement Pilot Programme, which has highlighted some of the challenges with scaling up retrofit. These challenges include installer reluctance to work on individual properties, conservation area restrictions, and long waits for Distribution Network Operator approval for solar installations.
Cara Holmes, Senior Policy Researcher at Citizens Advice, presented research on consumer interest in energy efficiency measures and capacity to pay. Holmes identified three broad groups: those uninterested in energy efficiency upgrades (46% of people in Greater Manchester); interested, but unable to afford upfront costs and unwilling to borrow (19% in Greater Manchester); and interested and able to pay (8% in GM). Cara raised a number of questions, such as how to convince those least interested in retrofit on low incomes of the financial, health and comfort benefits; what packages would make retrofit attractive and affordable to those interested but who can't pay; and can different services and technologies be bundled together for the able to pay living off the gas grid?
Marianne Heaslip of Manchester cooperative People Powered Retrofit highlighted the differences between contractors on large-scale public retrofit programmes and those retrofitting individual homes or a few houses at time. She also discussed barriers to delivering retrofit, such as access to training, the costs of green products, and the ageing construction workforce.
Aileen McDonnell of construction-cum-construction training company B4Box described the company's philosophy of eschewing short-term contract work in favour of full-time employees. She argued that delivering home retrofit and refurbishment in a sympathetic way requires a broad skillset, and that paying people properly and understanding everyone deserves to live in a decent home will at the same time address the climate issues.
Russ Banton of E.ON described the evolution of Energy Company Obligation (ECO) targets and predecessor schemes since 2005, resulting in 11700 measures across Greater Manchester so far. He then outlined the differences between ECO4 and the Great British Insulation Scheme (GBIS) in scope and eligibility criteria.
Alex Hughes of standards organisation MCS presented the MCS Data Dashboard, which visualises renewables uptake. There have been nearly 47000 MCS-registered installations in Greater Manchester to date (88% of them solar PV). 2022 and 2023 have seen sustained growth, with the number of installations in 2023 already exceeding the total for 2022 by the time of the summit. Heat pump installation across the Combined Authority area is already 28% higher in 2023 than last year.
Alex Baines of Saint-Gobain Interior Solutions and chair of the BSI Retrofit Standards Task Group drew on personal experience and the 2016 Each Home Counts report to illustrate the unintended consequences of retrofit when things go wrong. He argued that strict building and installation standards are imperative to avoid the damage that rebounds on the industry from botched, shoddy and unsafe work.
Anna Moore, CEO of retrofit one-stop shop Hestia, explored ways to attract different kinds of finance to the sector. She estimated the UK residential retrofit market is worth up to £1.6 trillion over the next 15 years, but that UK property only attracts 11% of cleantech funding. She argued that enterprises offering retrofit need to be more creative about who they approach for finance, and make better propositions to property owners and tenants about the co-benefits of retrofit.
Katherine Burden outlined how Green Economy, which sits within Greater Manchester-headquartered non-profit The Growth Company, supports businesses one-to-one to help them decarbonise. Green Economy offers a marketplace, a sales hub connecting buyers to suppliers and a green leaders' training course. Since 2011, they have built up a network of 3000 businesses, secured £13 million of sector sales across Greater Manchester and created more than 100 green jobs.
---
Read the full piece >> click our 'Retrofit Revisited' blog to get the full report on the Greater Manchester Retrofit Summit + access the info-packed presentations + lively and excellent Panel discussions chaired by retrofit leaders from around the UK.
---
Social Housing Retrofit Accelerator (SHRA) 'Bootcamp'
On the eve of The Home Upgrade Show, consultancy Turner & Townsend held a one day in-person retrofit accelerator 'bootcamp' at Victoria Baths - part of a series of government-backed workshops to help housing sector professionals utilise grant assets to accelerate retrofit implementation - coinciding with this month's announcement of Wave 2.2 of the Social Housing Decarbonisation Fund.
These SHRA 'bootcamp' sessions focus on raising awareness and offering skills, support, and learning resources about the context, practicalities and benefits of social housing retrofit for those working in the sector across all levels and also for tenants.
Delegates included staff at housing associations looking after anything from 50 to tens of thousands of properties, representatives from Liverpool City Region Combined Authority, architects, surveyors and contractors. Sessions were packed and featured interactive voting on polling questions as a cue for wider discussion.
"There hasn't been this level of funding for a while" says Claire Brown of Turner & Townsend.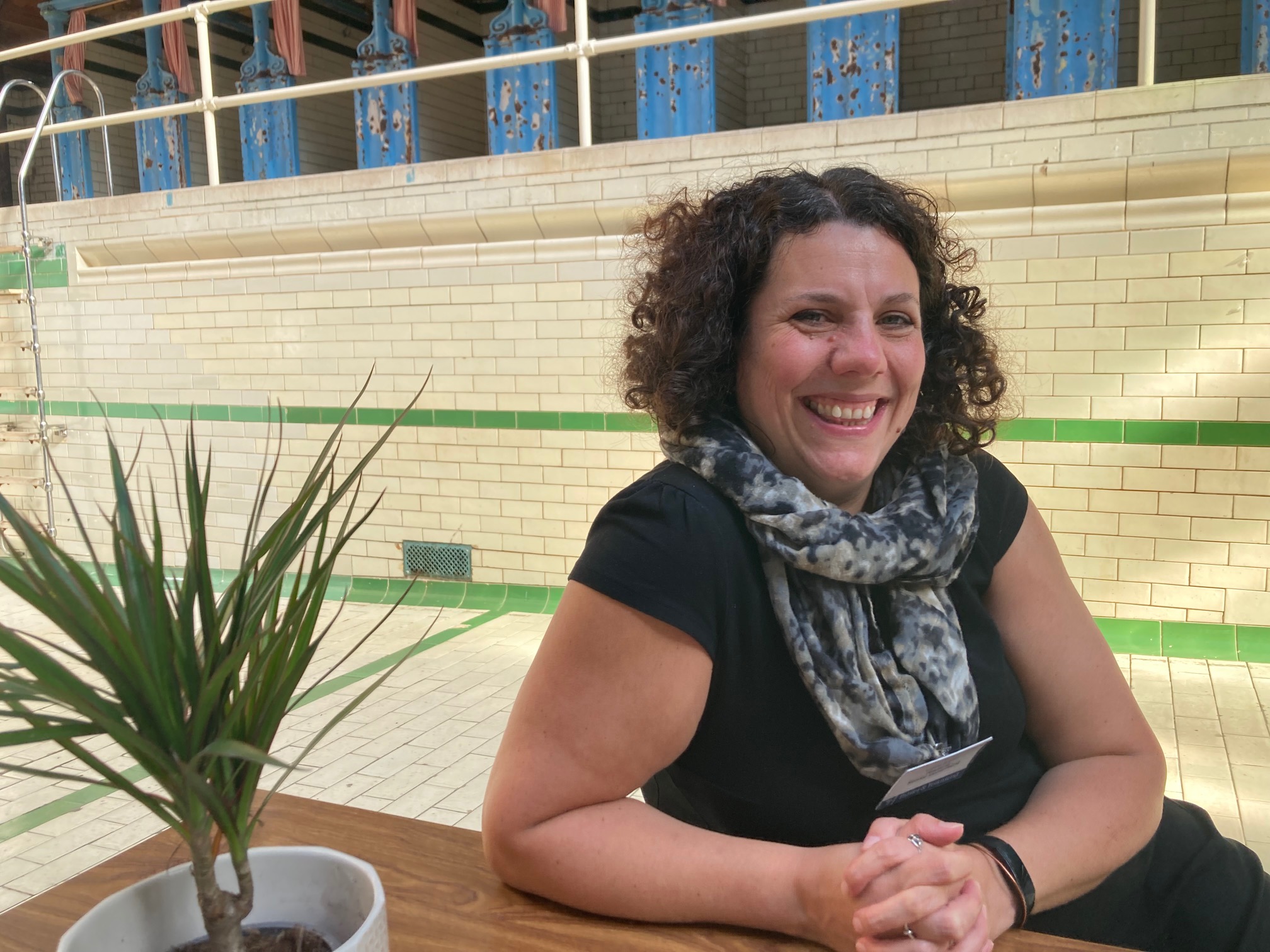 "We're trying to elevate people's understanding so they are confident about what they're being tasked to do". For tenants, "it's about switching from something being done to them to something they're part of," she says.
"I found the bootcamp a great introduction and insight into retrofit: tackling the processes required for effective delivery for those about to embark on a retrofit project, and those well versed," says Jacqui Saw, Head of Asset Investment Strategy at First Choice Homes in Oldham.
"The benefits were to learn from one another, share experience, knowledge of the steps and processes required. It also gave the structure for good project management".
"The landscape is challenging. Funding rules and tight deadlines often make it difficult to deliver what was proposed. There is a lack of clarity regarding 'carry over' of funds, following delay of delivery, and cost of materials increases have impacted on budgets".
---
The Home Upgrade Show
Retrofit Action Week 2023 culminated in Low Carbon Homes' first in-person retrofit-focused event since the pandemic. The Home Upgrade Show brought over 300 housing and householder visitors together with over 50 retrofit exhibitors and practitioners at Manchester's Grade II* listed Edwardian Victoria Baths - partly restored and much loved by Mancunians as an events space and film and TV location since its closure as a council facility 30 years ago.
One event visitor told us that she remembered coming along to Victoria Baths for swimming lessons when she was a girl - "quite some time ago"!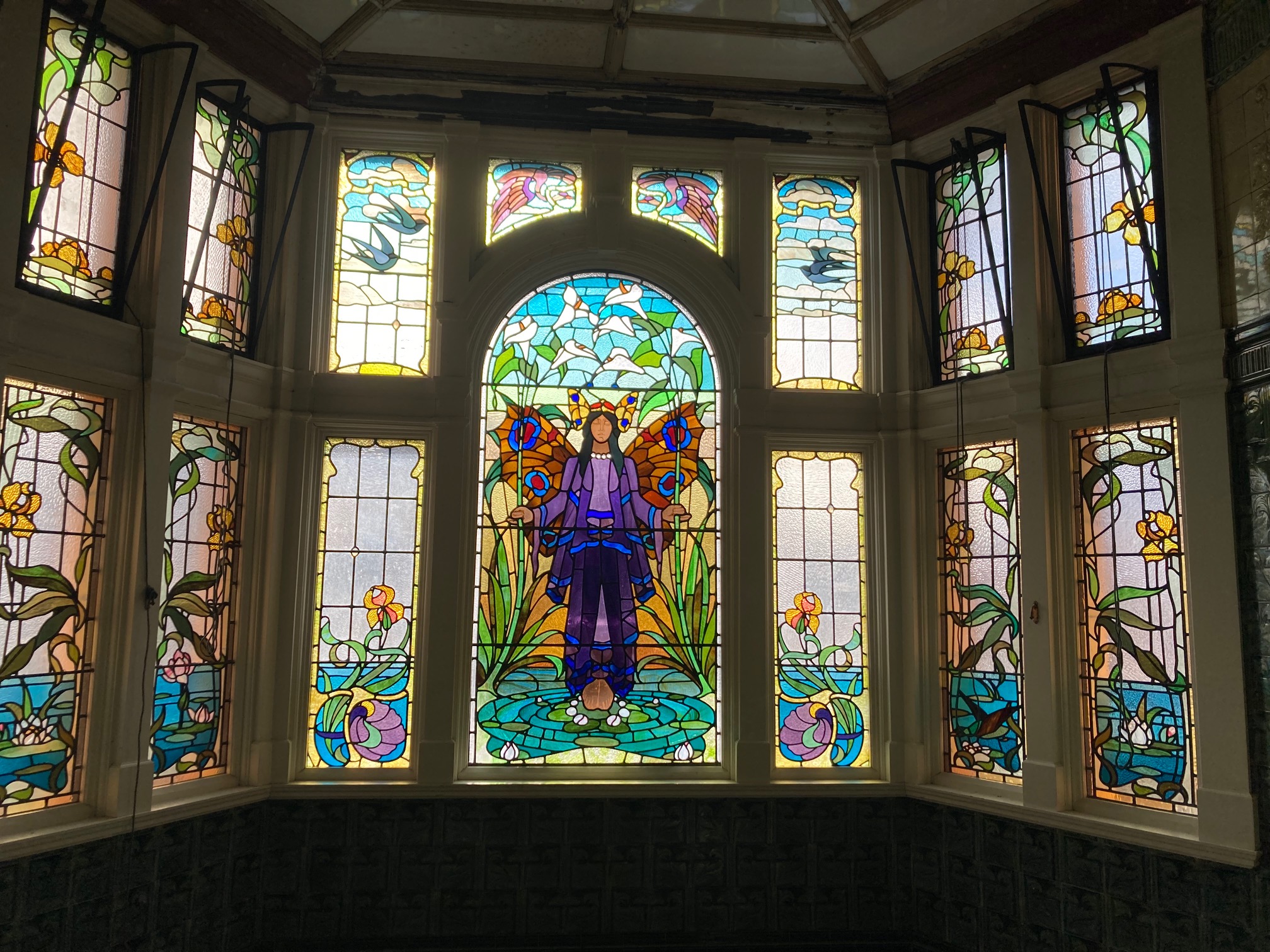 Over 50 exhibitors – product companies, service and training providers, and event partners and trade associations – filled the ground floor and the gallery of the central Gala Pool, with a section for heat pump suppliers in the adjoining Pineapple Room. There were presentations on the current landscape and outlook for heat pumps and an advice clinic for homeowners provided by the Heat Pump Federation. The week's headline sponsor British Gas hosted the Visitors Lounge with a café in the Sports Hall Pool, styled with retro furniture for the impending Vintage Home Show. Friday was Housing Professionals Day and Saturday was targeted at householders and other local community attendees, with historical tours of the building provided by volunteers on both days.
Exhibitors made connections with installers and found business opportunities, such as one training provider approached by a housing company wanting to sign up more than three dozen of its employees to study retrofitting NVQs. There was lively interest from industry and householders in innovative new energy efficiency products being exhibited. A number of participants said they thought the broad mix of attendees and the manageable event size were winning features.
"We've had some really great conversations" - was just one of the many positive comments from exhibitors at the event.
Upstairs in the former Superintendent's Flat, free workshops were held over the 2-day show. Architect and designer Hannah Dixon of Trafford-based Progress in Practice, together with Passivhaus builder Tim Hulse and Marion Lloyd-Jones of Manchester's Retrofit Hub offered practical sessions for tradespeople and residents, covering materials, retrofitting techniques, thermal properties of roofs, floors, windows and doors, approaches to retrofitting in a conservation area, and whole-house retrofit.
Not-for-profit community benefit society People Powered Retrofit and energy services and advocacy co-operative, Carbon Co-op hosted panels on retrofit in the wider context as a form of community or neighbourhood action. Topics included place-based retrofit, illustrated by Carbon Co-op's Levenshulme scheme which trialled the benefits of a street-by-street approach. Both workshop strands proved very popular and were standing room only at times. Homeowners from Manchester and as far away as Cumbria - at different stages of their retrofit journey - joined the Progress in Practice sessions - some lasting up to two hours - while audience members at People Powered Retrofit reflected on landmark public building restorations and rebuilds they had been involved in.
"The chats were excellent - we went again the next day"
When surveyed afterwards, our housing professional visitors told us their Top 3 reasons for attending the event was to network and make new contacts, to hear about plans for retrofit at-scale across Greater Manchester and to learn more about home energy efficiency products. Householder visitors told us their Top 3 reasons for attending were to discover/learn more about energy efficiency products, to learn about the 'whole-house' approach to reducing energy demands, and to get advice.
We had loads of helpful and constructive feedback on the event from exhibitors and visitors alike. One housing sector visitor told us
"We found the show [to be] a good size - not too large and not too small - gave us plenty of opportunity for meet people and discuss future projects".
Another community group visitor told us
"Please keep doing what you are [doing] - it's great!"
Nevertheless, lots to do to prepare for 2024 when RAW Manchester returns and RAW Birmingham premiers.
Thanks for reading - hope it was a useful round-up of an exciting week of retrofit action.
Watch this space, retrofitters!
We'll keep you posted!

 
Want to get involved in Retrofit Action Weeks over 2024 (Birmingham; Manchester)? Get in touch with us to explore the options.
---