North East housing retrofit conference opens next week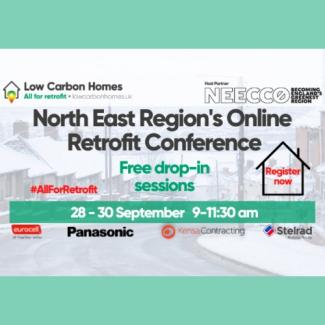 Retrofit Key to Becoming England Greenest Region + Retrofit Meeting House Debut
Next week, the North East's regional retrofit conference opens. The Low Carbon Homes online event, hosted by the North East England Climate Coalition (NEECCo) explores the opportunity for a coalition approach to retrofitting an entire region of the UK.
A cross-sector coalition is urging everyone across the North East to come together with the aim of 'Becoming England's greenest region'. NEECCo is calling upon every individual, household, business and organisation in the region to sign up and make a pledge to work together, and to help attract significant and sustainable investment, including from government, to build a £1.5 billion portfolio of investable projects.
NEECCo's aims include agreeing ambitious targets to develop and deliver climate and environmental initiatives to tackle the climate emergency, reverse ecological collapse and deliver a just transition to a new green economy. Reaching this goal can only be accomplished at scale, and through sectors and organisations working together, so everyone is asked to do their bit, however small.
"Retrofitting the homes of the north east is a major challenge for us all. With up to 30% of emissions across our region coming from domestic energy use, we know this work is crucial if we want to green the north east and move towards net zero. Key partners in our region are committed to working together, and this conference provides a great opportunity to share ideas, to work out ways of tackling some of the biggest challenges, and to galvanise new partners to join NEECCo's collaborative programme that is led on our behalf by the Northern Housing Consortium" – Sir Paul Ennals, CBE, Convening Chair, NEECCo
North East's Presenters
Sir Paul Ennals CBE, Convening Chair of NEECCoSam Granger, Head of Environmental Sustainability, ThirteenJoe Hill, Sales Manager – North, Kensa Contracting
Adrian Cantle-Jones, Durham County CouncilAdrian Cantle-Jones, Durham County CouncilLewis Aird, Business Development Manager, Stelrad
Dr Richard Watson, Northumbria UniversityDr Tara Hipwood, University of NorthumbriaDr Zahirah Azizi, University of Northumbria
Tracy Harrison, CEO, Northern Housing ConsortiumJames Moran, Area Sales, PanasonicRoss Holleron, Head of Innovation, Sero
Paul Kilby, Regional Partnership Manager, Glasgow City CouncilSean Conway, Business Development Manager, EurocellAlex Cole, Director Innovation & Consulting, Midlands High Growth
Paul Fiddaman, CEO, Karbon HomesJamie Driscoll, Mayor, North of TyneMatt Harrison, Programme Director, Social Housing Decarbonisation, BEIS
Samantha Tullock, Strategic Assets Business Lead, Believe HousingEmily Thompson, Director of Climate Change & Fuel Poverty, Groundwork
North East's Programme of low carbon leaders and practitioners joining us over 3 mornings, 08.30-11.30hrs, 28-30 Sept
Low Carbon Homes North East on 28-30 September, hosted by NEECCo, is a free-to-attend online event bringing professionals from inter-related sectors together to collaborate and consider the scale of the challenge, the solutions available and the barriers to overcome.
Retrofit Meeting House debut
Low Carbon Homes' will debut the all-new virtual Retrofit Meeting House at the North East event enabling attendees to gather in rooms and at tables. Set in a stimulating virtual house environment, the meeting house features the technology of event partners Kensa Contracting, Panasonic, Stelrad and Eurocell.
"We're committed to staging our events in the most engaging and informative ways, while also minimising our carbon footprint. This latest innovation builds upon the rewarding experience of past events to create a truly memorable event focused on the crucially important topic of retrofit. So where better to meet, than in the Retrofit Meeting House?" – Graham Lock, Founder, Low Carbon Homes
After the North East, Low Carbon Homes will be staging further events across the UK. Next is Glasgow, hosted by Glasgow City Council on 19-21 October, then Suffolk in November and Lancashire in December.
Notes to editors
Low Carbon Homes North East, (Tuesday 28th – Thursday 30th September), is staged over three mornings, and includes opening addresses and speaker sessions featuring local leaders and practitioners, as well as experts from across the UK sharing retrofit best-practice.
North East event
Free tickets for representatives from across the north of England
The online event takes place across three mornings – 28, 29, 30 September (0830-1130hrs)
Delegates can view all or selected sessions and meet with other delegates, speakers and sponsors
Group work sessions will be staged each day to facilitate thought development among delegates
Registration for the event closes at 4pm, Monday 27th September
Registration for all events is open at https://www.lowcarbonhomes.uk/events/
Future events
Glasgow event dates: 19-21 October
Suffolk event dates: 23-25 November
Lancashire event dates: 07-09 December
Twitter: @lowcarbonhomes
Web: www.lowcarbonhomes.uk
Email: hello@lowcarbonhomes.uk
About
Low Carbon Homes brings global domestic energy efficiency innovation to the UK's regions via a nationwide event series focused on the challenges of retrofitting the UK's existing 25 million homes. Aimed at architects, heating engineers, local authorities, landlords, contractors and related sector professionals, the free-to-attend event (for local organisations) features a structured programme built around core sessions specific to each host city/region.
Press contact
For quotes, further images or interviews please contact: Graham Lock | tel: 07917 847552 | email: graham@lowcarbonhomes.uk