Forum South West 2018 Round-Up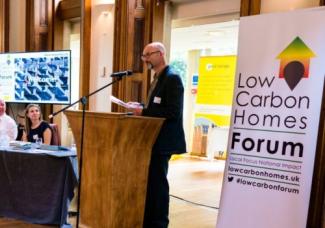 Oil, gas, renewables industry professionals share vision, opportunities and 5-year challenges at Low Carbon Homes Forum
I created Low Carbon Homes to help accelerate our transition to a low carbon future.  Too many people are needlessly living in cold, damp houses. Across the UK there are thousands of examples of retro-fit good practice, product innovation and behavioural change encouragement.  Low Carbon Homes is a series of events bringing that national and international expertise to the UK's regions in greatest need.
Our June event in Exeter brought together architects, engineers, landlords, local authority officers and councillors to learn from product and system experts.  We focused on the near-term, rather than future forecasting, as it was important that delegates left with implementable knowledge – we want to affect change now, not speculate about the future.  So, for our morning session we asked speakers to look no further than 2023.  Here's what happened…
Scale of challenge set out by fossil fuel reps; demand reduction vital
Dan Weisselberg from The Green Register chaired the first session which set the scene before delegates selected their afternoon workshop sessions.
The scale of the challenge was set out by our plenary session speakers; The Green Registers' Lucy Pedler reminded us that the 2008 Climate Change Act committed the UK to an 80% reduction (below 1990 levels) in carbon emissions by 2050 – yet 80% of 2050's housing stock is already built.  Successive governments have failed to take (or support) consistent and decisive action – in 2015 the Zero Carbon Homes goal was scrapped, in 2016 Zero Carbon Hub was also scrapped.
In 2017 the Clean Growth Strategy was announced – "The heating industry has a vital role to play. It is essential for installers, suppliers and manufacturers in the coal and oil sectors to show leadership".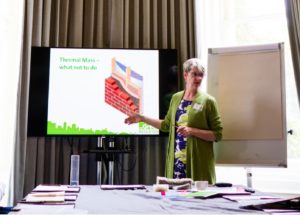 Lucy reminded us of Minimum Energy Efficiency Standard (MEES) obligations set out in the Energy Act 2011 – From 1 April 2018, landlords cannot renew existing tenancies or grant new tenancies if the building has an (EPC) rating of F or G.  After 1 April 2023, landlords must not continue to let any buildings which have an EPC rating of less than E.
Lucy and The Green Register advocate a holistic "Whole House- Fabric First" approach involving the management of building Heat Loss, Air Tightness and Moisture Control – all to help reduce energy consumption.
Heat Loss for a typical uninsulated house, Lucy explained, could be as much as 35% through walls, 25% through the roof, 15% through the floor, 15% through doors, and 10% through windows.  Poor design and poor service provision and installation can conversely also cause overheating.
With the Fabric First approach, according to Lucy, thermal bridging can be corrected, airtightness and ventilation improved and heat loss reduced.  It's complicated but possible.  Lucy's afternoon workshop delved deeper into the issue and was ranked by delegates as the most popular workshop of the day.
Fossil fuel transition to lower carbon…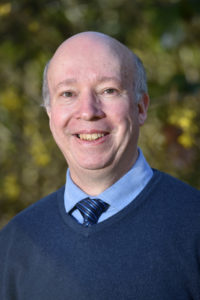 A few delegates were surprised to hear speakers representing the fossil fuel industries at Low Carbon Homes.  I invited representatives from the oil and LPG industries, as I thought it would be helpful to hear about their plans to help the UK transition to low carbon energy.  Malcolm Farrow from OFTEC emphasised the importance of ensuring a secure energy supply for the UK, recognising the need to decarbonise, while keeping costs down for consumers.
With many off-gas homes reliant on oil as a fuel, Malcolm described the "rural home challenge" – only 12% of off-gas rural homes are in EPC A-C bands. 8 million homes have solid walls, with rural homes performing worse than urban/suburban. 14% of rural households are in fuel poverty, compared with 10% in urban areas. 90% of retrofit boiler installations are a distressed purchase. The RHI scheme failed to deliver change – only 60,000 installations achieved for the £23bn cost.
Malcolm explained that OFTEC is in discussions with government about the future of liquid fuel and has established a number of policy recommendations – decarbonisation must not impose unreasonable costs to consumers; no one-size-fits-all solution to the rural home challenge; upfront incentives and low-cost finance options should be provided; create a low carbon heating marketplace to drive down costs; low carbon liquid fuels should be accepted as an alternative to existing tech; meaningful engagement with installers is essential.
Low carbon liquid fuels (bio-fuels) are being developed which OFTEC and industry have successfully trialled.  Malcolm explained that these will bring many benefits including: keeping costs low for consumer; retaining existing UK manufacturing, supply, installation and service resources; reducing need for huge early investment in electrification; a final solution for some, a stepping stone for others; possibility of hybrid systems.
In wrapping up, Malcolm re-emphasised the importance OFTEC places on the role of the engineers and fuel distributors in potentially becoming energy efficiency and low carbon champions, influencing consumers and helping them navigate the transition to low carbon.
Our second guest representing fossil fuels was Emily Wilson-Gavin from industry association UKLPG. Borrowing from the government's own Clean Growth Strategy document, Emily reinforced a common message "Decarbonising heat is our most difficult policy and technology challenge to meet our carbon targets".  Emily broke down the 2050 80% reduction target referred to earlier by Lucy – 37% reduction by 2020, 51% by 2025, 57% by 2030.
Emily referred to the on-going engagement with government by UKLPG and their published policy document "Gas for off-grid Britain".  In this she stated that the LPG industry is calling for pragmatic solutions: the targeting of oldest and most inefficient appliances first, that understanding of rural building stock is required and that installer and home owner buy-in is essential.  Consumers, Emily stated, need innovative technologies which are easy to understand, operate and compare to those currently in use, and that behavioural psychology is as important as technology.
In setting out the case for the bio-propane, Emily stated that it was chemically identical to conventional propane and that it was renewable,
Micro-generation viability
Our final guest speaker of the morning was Tom Matthews from Good Energy.  Tom explained that Good Energy supplies 100% renewable electricity to over 110,000 domestic and 5,000 business consumers while managing Feed In Tariff (FIT) accounts for over 140,000 customers.  Their fuel mix was described as 46% wind, 30% biogen, 18% solar, 6% hydro.
Tom demonstrated that the 'value landscape' has changed significantly since the reduction in government support since 2016, with generation rates only about 25% of 2013 values.  Installation costs however have also fallen, although not at the same rate.  Payback rates are improving according to Tom, particularly when onsite value is taken into account – payback in around 10 years is now possible.
Looking to the future, Tom anticipates the development of half-hourly settlement and more affordable storage – two innovations which he considers will make FIT2 an attractive option especially as peak demand and energy costs rise.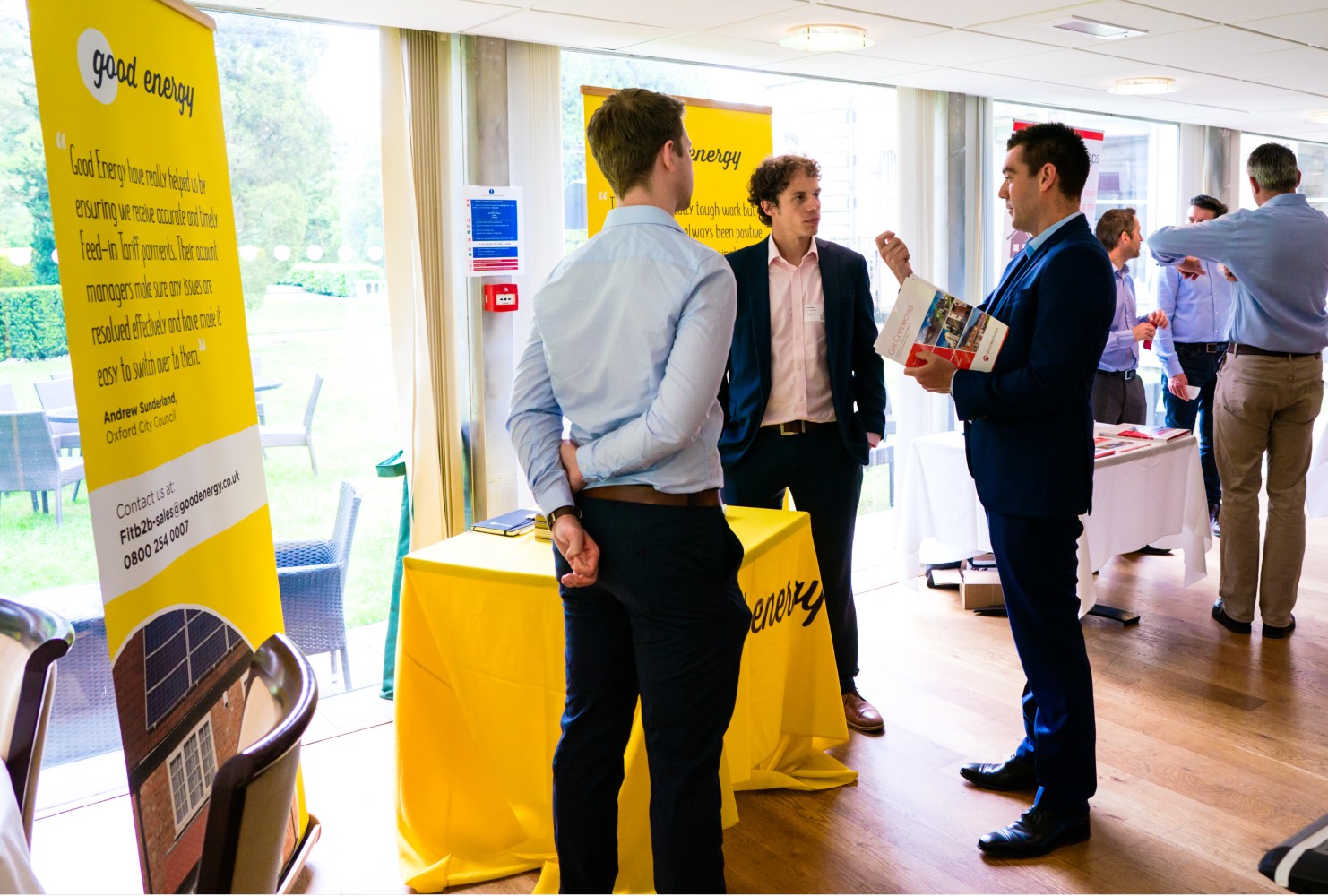 Conclusions and next steps
In wrapping up, Dan Weisselberg and our speakers agreed that collaboration across the sector is essential if the transition to low carbon is to gain momentum – examples cited included OFTEC's work with insulation giant Kingspan, and Good Energy working with energy storage providers.  On-going training was also regarded as vital if the underperformance of buildings is to be rectified, and latest innovations adopted by engineers and architects.
Consumer engagement and education was recognised as challenging by all speakers – EPC's for example are easy to understand but do not tell the whole story regarding building performance.  Energy efficiency improvements need to be easier, not necessarily cheaper – incentives could be offered, even (suggested Lucy) by the substantial increase of energy costs to consumers.
A lively round of questions concluded the morning session, including two that were particularly thought- provoking:
If biofuels are part of the solution, how will we ever be able to supply enough raw materials for domestic energy use when faced with competition from air, sea and road transport?
Does the increasing number of passivhaus standard new-builds set an impossibly high bar for retro-fit improvements?