Manchester leaders power ahead of Government on housing decarbonisation strategy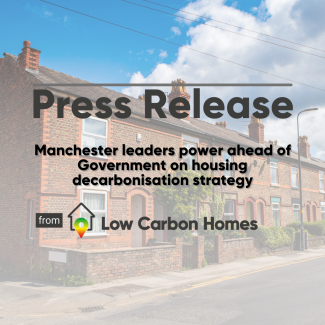 Against a backdrop of doctor and consultant strikes and extensive waiting lists, the Conservative Party missed the opportunity to score several open goals at its Conference in Manchester this week.
Smart politicians will be looking at the opportunity to decarbonise the nation's homes, improve air quality and reduce demands on the NHS in one remedial move - but Prime Minister Rishi Sunak's announcement that phasing out fossil fuel heating and transport will be delayed shows that the Conservatives are not the smart politicians right now.
Those reading the zeitgeist correctly are focusing policy, messaging and action on achieving energy efficient homes to improve health and economic wellbeing, and next week's Greater Manchester Retrofit Summit is perfectly timed as it brings together retrofit industry professionals, and local authorities, as they prepare plans to invest millions of pounds from the city region's trailblazer devolved budget to improve the region's homes to help achieve net zero targets in the next 15 years, and improve the lives and wellbeing of local residents.
Last winter, a study by Sheffield Hallam University researchers proved that providing warmer homes "on prescription" had the potential to prevent excess winter deaths and reduce the pressure on the NHS which is caused by cold homes combined with long-term health conditions.
"It is estimated that "excess winter deaths in the coldest quarter of housing are almost 3 times as high as in the warmest quarter" with 21.5% of all excess winter deaths attributable to the coldest quarter of housing," says Public Health England in its guidance to public health teams and housing professionals.
Meanwhile public concerns about the ever more visible impacts of climate change have not gone away in spite of reductions in energy prices taking the pressure off household budgets, with 82% of people being fairly or very concerned about climate change according to Government figures.
Net Zero by 2038 is a commitment that those at the heart of Manchester's local leadership are not wavering on.
"We're not changing course on Net Zero…we're not making it the new front in the culture wars…we are stuck on our course for 2038 even though it's getting challenging," said Mayor of Greater Manchester Andy Burnham at the sixth Greater Manchester Green Summit this week. "In my view, it's the best chance we will ever get to re-industrialise Greater Manchester and the North of England...We need to be ready to go if there's a Government that wants to quicken the pace to Net Zero."
Graham Lock, Founder of Low Carbon Homes, and organiser of next week's retrofit summit, concludes: "When the need for reducing energy use while driving economic growth combines with the cost of living crisis and a struggling NHS, and the answer that ticks all those boxes is retrofitting homes for energy efficiency, anyone looking for a strategy to appeal to voters in next year's General Election should pick this as an open goal that ensures the taxpayer's pound works twice as hard and addresses multiple public concerns."
Industry is also continuing to rise to the challenge, offering local communities decarbonisation solutions and supporting local action, with British Gas, E.ON, Green Economy, MCS, Hestia and Saint-Gobain and Renewable Energy Installer all supporting the Manchester Retrofit Summit.
Retrofit Action Week events include:
>> Greater Manchester Retrofit Summit – 9-11 October, online, free to attend
>> Manchester Retrofit Action Week – 7-15 October
>> The Home Upgrade Show – 13-14 October at the Victoria Baths, Manchester
If you are an installer, retrofit professional, local authority staff member or work in the retrofit supply chain in any capacity, sign up to attend these free events by going to https://lowcarbonhomes.uk/events – and although each one has a Greater Manchester focus, the content is relevant to all counties and local authorities.