Keeping homes warm for less
Online Sessions: 12.00-2.00pm; these are the confirmed timings.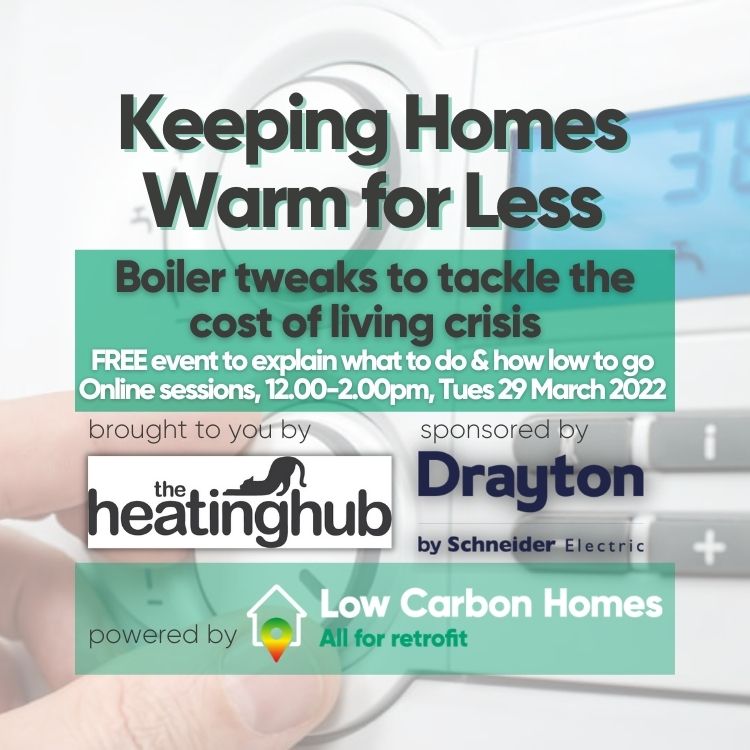 Keeping Homes Warm for Less
Boiler tweaks to tackle the cost of living crisis
12.00-2.00pm, Tues 29 March, online
Brought to you by The Heating Hub, this free-to-attend event will show you how to lower the 'flow' temperature on your condensing combi-boiler.
We explain why it's important and how to do it!
Boilers are not 'A-rated' out of the box!
Studies have found them to be B-E rated in the home
99% of condensing gas boilers are 10-25% less efficient than they could be
A lower flow temperature helps them reach their full efficiency potential
This free online event will help you understand:
what is 'flow' temperature
what type of boiler can be adapted
what to do and how low to go
Programme/Timings
​12.00hrs Event opens for on-boarding and networking
12.15hrs Welcome from the Sponsor, Drayton Controls
12.25hrs Fuel Poverty Crisis, with Matt Copeland, National Energy Action
12.30hrs Energy Efficiency Crisis, with Jo Alsop, The Heating Hub
12.35hrs Rising Fuel Prices, with Naomi Baker, Energy UK
12.40hrs Untapped Energy Efficency Potential, with George Bennett, BEIS
12.45hrs Changing Our Behaviours, with Katy King, NESTA
12.50hrs Why Low Temperature + Efficiency, with Richard Burrows, Mid-Wales Plumbing & Heating
12.55hrs How to Lower the Flow (a practical 'How To' video) with The Heating Hub
13.00hrs Opportunity for discussion with other attendees on the virtual tables
13.30hrs Q&A Time with our presenters
13.50hrs Wrap-up and closing remarks
14.00hrs Event closes